---
Climatology

of Caribbean Hurricanes
---
Atlantic Region (ATLN)
Tropical systems passing through the Atlantic Region (all storms).
Please note that not only hurricanes (h1-h5) are included but also tropical storms (ts). Wind/category reported is maximum measured while the system moved through region (box). Each category storm has its own color (see color bar below; ts=tropical storm; h1=category 1 hurricane; etc., see the guide for definitions). Different projections can be selected, the island projections are most zoomed in (select if you want to see how close the systems passed by the island [not available for regions]), while the world projection most zoomed out (select when you want to see the complete path of the storm). Winds are in miles per hour. It is also calculated how close the center of the storm came to the island, the so-called closest point of approach (cpoa, in miles).
Below you can see all stormtracks since 1851 for the Atlantic Region (for more details about individual storms skip to another page where storms are separated per decade). In the climatology section there is also a weekly analysis of the data which shows when the real peak of hurricane season is for the Atlantic Region and a five-year analysis to find out if more storms have passed through the Atlantic Region recently.
1851 - 2019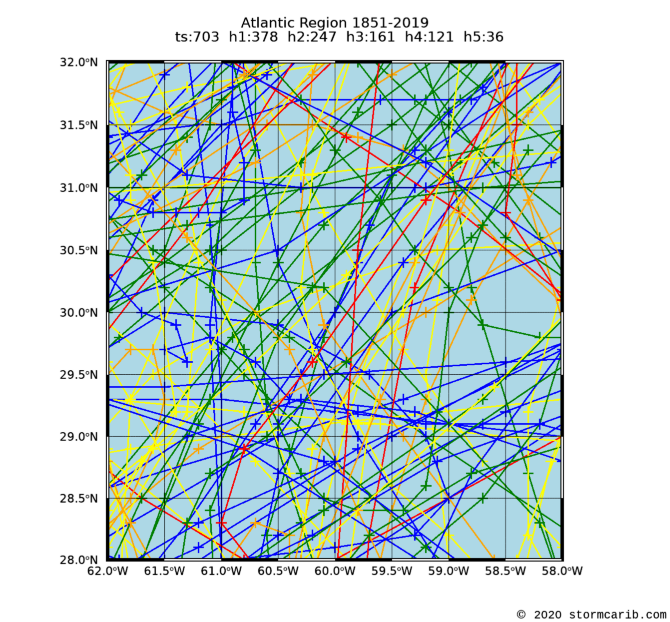 date     wind  cat. cpoa  name
25 Jun 1851    92   h1  n/a   UNNAMED
 5 Jul 1851    92   h1  n/a   UNNAMED
10 Jul 1851    58   ts  n/a   UNNAMED
23 Aug 1851   115   h3  n/a   UNNAMED
13 Sep 1851    58   ts  n/a   UNNAMED
17 Oct 1851    69   ts  n/a   UNNAMED
24 Aug 1852   115   h3  n/a   UNNAMED
 5 Sep 1852    81   h1  n/a   UNNAMED
 9 Sep 1852    81   h1  n/a   UNNAMED
25 Sep 1852    92   h1  n/a   UNNAMED
 6 Oct 1852   104   h2  n/a   UNNAMED
 5 Aug 1853    58   ts  n/a   UNNAMED
10 Aug 1853    46   ts  n/a   UNNAMED
 3 Sep 1853   150   h4  n/a   UNNAMED
 8 Sep 1853   115   h3  n/a   UNNAMED
21 Sep 1853    58   ts  n/a   UNNAMED
27 Sep 1853    81   h1  n/a   UNNAMED
28 Sep 1853    58   ts  n/a   UNNAMED
20 Oct 1853   104   h2  n/a   UNNAMED
25 Jun 1854    81   h1  n/a   UNNAMED
23 Aug 1854    69   ts  n/a   UNNAMED
 7 Sep 1854   127   h3  n/a   UNNAMED
18 Sep 1854   104   h2  n/a   UNNAMED
21 Oct 1854    69   ts  n/a   UNNAMED
 6 Aug 1855   104   h2  n/a   UNNAMED
10 Aug 1855   104   h2  n/a   UNNAMED
11 Aug 1855    81   h1  n/a   UNNAMED
25 Aug 1855    69   ts  n/a   UNNAMED
16 Sep 1855   127   h3  n/a   UNNAMED
10 Aug 1856   150   h4  n/a   UNNAMED
13 Aug 1856    81   h1  n/a   UNNAMED
19 Aug 1856    58   ts  n/a   UNNAMED
21 Aug 1856    58   ts  n/a   UNNAMED
30 Aug 1856   115   h3  n/a   UNNAMED
19 Sep 1856    81   h1  n/a   UNNAMED
30 Jun 1857    58   ts  n/a   UNNAMED
11 Sep 1857   104   h2  n/a   UNNAMED
22 Sep 1857    81   h1  n/a   UNNAMED
28 Sep 1857   104   h2  n/a   UNNAMED
12 Jun 1858    81   h1  n/a   UNNAMED
 5 Aug 1858    81   h1  n/a   UNNAMED
15 Sep 1858   104   h2  n/a   UNNAMED
17 Sep 1858    92   h1  n/a   UNNAMED
24 Sep 1858    92   h1  n/a   UNNAMED
24 Oct 1858   104   h2  n/a   UNNAMED
 1 Jul 1859   104   h2  n/a   UNNAMED
17 Aug 1859   104   h2  n/a   UNNAMED
 2 Sep 1859    81   h1  n/a   UNNAMED
12 Sep 1859   104   h2  n/a   UNNAMED
15 Sep 1859    81   h1  n/a   UNNAMED
 4 Oct 1859   127   h3  n/a   UNNAMED
16 Oct 1859    69   ts  n/a   UNNAMED
26 Oct 1859    92   h1  n/a   UNNAMED
11 Aug 1860   127   h3  n/a   UNNAMED
25 Aug 1860   104   h2  n/a   UNNAMED
11 Sep 1860   104   h2  n/a   UNNAMED
11 Sep 1860    81   h1  n/a   UNNAMED
19 Sep 1860    69   ts  n/a   UNNAMED
 2 Oct 1860   104   h2  n/a   UNNAMED
23 Oct 1860   104   h2  n/a   UNNAMED
10 Jul 1861   104   h2  n/a   UNNAMED
15 Aug 1861    92   h1  n/a   UNNAMED
29 Aug 1861   104   h2  n/a   UNNAMED
17 Sep 1861    81   h1  n/a   UNNAMED
27 Sep 1861    81   h1  n/a   UNNAMED
 6 Oct 1861    69   ts  n/a   UNNAMED
 7 Oct 1861    58   ts  n/a   UNNAMED
 2 Nov 1861    81   h1  n/a   UNNAMED
15 Jun 1862    58   ts  n/a   UNNAMED
18 Aug 1862   104   h2  n/a   UNNAMED
15 Sep 1862   104   h2  n/a   UNNAMED
 6 Oct 1862    58   ts  n/a   UNNAMED
14 Oct 1862    81   h1  n/a   UNNAMED
22 Nov 1862    69   ts  n/a   UNNAMED
 8 Aug 1863   104   h2  n/a   UNNAMED
18 Aug 1863   104   h2  n/a   UNNAMED
20 Aug 1863   104   h2  n/a   UNNAMED
27 Aug 1863   104   h2  n/a   UNNAMED
 9 Sep 1863    81   h1  n/a   UNNAMED
17 Sep 1863    69   ts  n/a   UNNAMED
18 Sep 1863    58   ts  n/a   UNNAMED
26 Sep 1863    58   ts  n/a   UNNAMED
29 Sep 1863    69   ts  n/a   UNNAMED
16 Jul 1864    81   h1  n/a   UNNAMED
25 Jul 1864    69   ts  n/a   UNNAMED
26 Aug 1864    81   h1  n/a   UNNAMED
 5 Sep 1864    58   ts  n/a   UNNAMED
23 Oct 1864    81   h1  n/a   UNNAMED
30 May 1865    58   ts  n/a   UNNAMED
30 Jun 1865    58   ts  n/a   UNNAMED
22 Aug 1865    69   ts  n/a   UNNAMED
 6 Sep 1865   104   h2  n/a   UNNAMED
 7 Sep 1865    69   ts  n/a   UNNAMED
28 Sep 1865    81   h1  n/a   UNNAMED
22 Oct 1865   104   h2  n/a   UNNAMED
11 Jul 1866   104   h2  n/a   UNNAMED
13 Aug 1866   104   h2  n/a   UNNAMED
 4 Sep 1866    81   h1  n/a   UNNAMED
18 Sep 1866    81   h1  n/a   UNNAMED
22 Sep 1866   104   h2  n/a   UNNAMED
 1 Oct 1866   138   h4  n/a   UNNAMED
29 Oct 1866    69   ts  n/a   UNNAMED
22 Jun 1867    81   h1  n/a   UNNAMED
 1 Aug 1867   104   h2  n/a   UNNAMED
 2 Aug 1867   104   h2  n/a   UNNAMED
31 Aug 1867    81   h1  n/a   UNNAMED
 8 Sep 1867    58   ts  n/a   UNNAMED
30 Sep 1867   104   h2  n/a   UNNAMED
 2 Oct 1867   104   h2  n/a   UNNAMED
 9 Oct 1867    46   ts  n/a   UNNAMED
29 Oct 1867   127   h3  n/a   UNNAMED
 6 Sep 1868   104   h2  n/a   UNNAMED
 7 Oct 1868    81   h1  n/a   UNNAMED
 5 Oct 1868   104   h2  n/a   UNNAMED
17 Oct 1868   104   h2  n/a   UNNAMED
12 Aug 1869   104   h2  n/a   UNNAMED
16 Aug 1869   104   h2  n/a   UNNAMED
27 Aug 1869    81   h1  n/a   UNNAMED
 2 Sep 1869    69   ts  n/a   UNNAMED
 4 Sep 1869    81   h1  n/a   UNNAMED
 8 Sep 1869   115   h3  n/a   UNNAMED
12 Sep 1869   104   h2  n/a   UNNAMED
14 Sep 1869    69   ts  n/a   UNNAMED
 1 Oct 1869    58   ts  n/a   UNNAMED
 4 Oct 1869   104   h2  n/a   UNNAMED
30 Jul 1870    81   h1  n/a   UNNAMED
 2 Sep 1870   104   h2  n/a   UNNAMED
 1 Sep 1870    69   ts  n/a   UNNAMED
11 Sep 1870   127   h3  n/a   UNNAMED
17 Sep 1870    92   h1  n/a   UNNAMED
 7 Oct 1870   115   h3  n/a   UNNAMED
 7 Oct 1870    81   h1  n/a   UNNAMED
10 Oct 1870    81   h1  n/a   UNNAMED
19 Oct 1870   104   h2  n/a   UNNAMED
23 Oct 1870   104   h2  n/a   UNNAMED
31 Oct 1870    81   h1  n/a   UNNAMED
 2 Jun 1871    58   ts  n/a   UNNAMED
 9 Jun 1871    58   ts  n/a   UNNAMED
15 Aug 1871   115   h3  n/a   UNNAMED
21 Aug 1871   115   h3  n/a   UNNAMED
30 Aug 1871   104   h2  n/a   UNNAMED
 5 Sep 1871    81   h1  n/a   UNNAMED
 2 Oct 1871    81   h1  n/a   UNNAMED
10 Oct 1871    81   h1  n/a   UNNAMED
10 Jul 1872    58   ts  n/a   UNNAMED
29 Aug 1872   104   h2  n/a   UNNAMED
12 Sep 1872    81   h1  n/a   UNNAMED
 3 Oct 1872    81   h1  n/a   UNNAMED
24 Oct 1872    81   h1  n/a   UNNAMED
 1 Jun 1873    46   ts  n/a   UNNAMED
23 Aug 1873   115   h3  n/a   UNNAMED
18 Sep 1873    81   h1  n/a   UNNAMED
23 Sep 1873    58   ts  n/a   UNNAMED
28 Sep 1873   115   h3  n/a   UNNAMED
 3 Jul 1874    58   ts  n/a   UNNAMED
 5 Aug 1874    81   h1  n/a   UNNAMED
 6 Sep 1874    92   h1  n/a   UNNAMED
 4 Sep 1874    58   ts  n/a   UNNAMED
 8 Sep 1874    58   ts  n/a   UNNAMED
28 Sep 1874    92   h1  n/a   UNNAMED
 2 Nov 1874   104   h2  n/a   UNNAMED
16 Aug 1875    81   h1  n/a   UNNAMED
 3 Sep 1875    81   h1  n/a   UNNAMED
16 Sep 1875   115   h3  n/a   UNNAMED
25 Sep 1875    58   ts  n/a   UNNAMED
 8 Oct 1875   104   h2  n/a   UNNAMED
14 Oct 1875    81   h1  n/a   UNNAMED
 9 Sep 1876    92   h1  n/a   UNNAMED
13 Sep 1876   115   h3  n/a   UNNAMED
16 Sep 1876    58   ts  n/a   UNNAMED
 3 Oct 1876   104   h2  n/a   UNNAMED
19 Oct 1876   115   h3  n/a   UNNAMED
 2 Aug 1877    69   ts  n/a   UNNAMED
17 Sep 1877    81   h1  n/a   UNNAMED
16 Sep 1877    81   h1  n/a   UNNAMED
 3 Oct 1877   115   h3  n/a   UNNAMED
28 Sep 1877    58   ts  n/a   UNNAMED
13 Oct 1877    58   ts  n/a   UNNAMED
27 Oct 1877    58   ts  n/a   UNNAMED
29 Nov 1877    58   ts  n/a   UNNAMED
 1 Jul 1878    46   ts  n/a   UNNAMED
15 Aug 1878    81   h1  n/a   UNNAMED
19 Aug 1878    92   h1  n/a   UNNAMED
28 Aug 1878   104   h2  n/a   UNNAMED
10 Sep 1878   104   h2  n/a   UNNAMED
15 Sep 1878   104   h2  n/a   UNNAMED
 3 Oct 1878   138   h4  n/a   UNNAMED
12 Oct 1878    81   h1  n/a   UNNAMED
12 Oct 1878    81   h1  n/a   UNNAMED
17 Oct 1878   115   h3  n/a   UNNAMED
21 Oct 1878   104   h2  n/a   UNNAMED
27 Nov 1878    69   ts  n/a   UNNAMED
11 Aug 1879    81   h1  n/a   UNNAMED
18 Aug 1879   115   h3  n/a   UNNAMED
22 Aug 1879   104   h2  n/a   UNNAMED
 1 Sep 1879   127   h3  n/a   UNNAMED
 6 Oct 1879    58   ts  n/a   UNNAMED
11 Oct 1879    58   ts  n/a   UNNAMED
29 Oct 1879    81   h1  n/a   UNNAMED
20 Nov 1879   104   h2  n/a   UNNAMED
21 Jun 1880    46   ts  n/a   UNNAMED
13 Aug 1880   150   h4  n/a   UNNAMED
19 Aug 1880    92   h1  n/a   UNNAMED
27 Aug 1880   104   h2  n/a   UNNAMED
30 Aug 1880    92   h1  n/a   UNNAMED
 9 Sep 1880    81   h1  n/a   UNNAMED
 8 Sep 1880    92   h1  n/a   UNNAMED
 1 Oct 1880   138   h4  n/a   UNNAMED
 8 Oct 1880    81   h1  n/a   UNNAMED
12 Oct 1880    92   h1  n/a   UNNAMED
23 Oct 1880    69   ts  n/a   UNNAMED
 3 Aug 1881    58   ts  n/a   UNNAMED
11 Aug 1881    92   h1  n/a   UNNAMED
11 Aug 1881    46   ts  n/a   UNNAMED
19 Aug 1881    81   h1  n/a   UNNAMED
26 Aug 1881   104   h2  n/a   UNNAMED
 9 Sep 1881   104   h2  n/a   UNNAMED
19 Sep 1881    69   ts  n/a   UNNAMED
24 Aug 1882    81   h1  n/a   UNNAMED
10 Sep 1882   127   h3  n/a   UNNAMED
15 Sep 1882    58   ts  n/a   UNNAMED
22 Sep 1882    58   ts  n/a   UNNAMED
25 Sep 1882    81   h1  n/a   UNNAMED
 9 Oct 1882   138   h4  n/a   UNNAMED
25 Aug 1883    92   h1  n/a   UNNAMED
28 Aug 1883   127   h3  n/a   UNNAMED
 4 Sep 1883   127   h3  n/a   UNNAMED
27 Oct 1883    81   h1  n/a   UNNAMED
 1 Sep 1884    81   h1  n/a   UNNAMED
 7 Sep 1884   115   h3  n/a   UNNAMED
17 Sep 1884    92   h1  n/a   UNNAMED
14 Oct 1884   104   h2  n/a   UNNAMED
10 Aug 1885    92   h1  n/a   UNNAMED
24 Aug 1885   104   h2  n/a   UNNAMED
30 Aug 1885    58   ts  n/a   UNNAMED
23 Sep 1885    92   h1  n/a   UNNAMED
19 Sep 1885    81   h1  n/a   UNNAMED
 2 Oct 1885    81   h1  n/a   UNNAMED
29 Sep 1885    92   h1  n/a   UNNAMED
11 Oct 1885    69   ts  n/a   UNNAMED
14 Jun 1886    98   h2  n/a   UNNAMED
20 Jun 1886    98   h2  n/a   UNNAMED
30 Jun 1886    98   h2  n/a   UNNAMED
20 Jul 1886    86   h1  n/a   UNNAMED
20 Aug 1886   150   h4  n/a   UNNAMED
21 Aug 1886   121   h3  n/a   UNNAMED
21 Aug 1886   115   h3  n/a   UNNAMED
21 Sep 1886    98   h2  n/a   UNNAMED
24 Sep 1886    98   h2  n/a   UNNAMED
12 Oct 1886   121   h3  n/a   UNNAMED
13 Oct 1886    52   ts  n/a   UNNAMED
23 Oct 1886    69   ts  n/a   UNNAMED
16 May 1887    69   ts  n/a   UNNAMED
18 May 1887    58   ts  n/a   UNNAMED
12 Jun 1887    40   ts  n/a   UNNAMED
22 Jul 1887    98   h2  n/a   UNNAMED
 2 Aug 1887    58   ts  n/a   UNNAMED
20 Aug 1887   121   h3  n/a   UNNAMED
22 Aug 1887   127   h3  n/a   UNNAMED
 3 Sep 1887   104   h2  n/a   UNNAMED
14 Sep 1887    98   h2  n/a   UNNAMED
16 Sep 1887    81   h1  n/a   UNNAMED
 7 Oct 1887    58   ts  n/a   UNNAMED
 8 Oct 1887    69   ts  n/a   UNNAMED
12 Oct 1887    86   h1  n/a   UNNAMED
11 Oct 1887    86   h1  n/a   UNNAMED
16 Oct 1887   104   h2  n/a   UNNAMED
 1 Nov 1887    81   h1  n/a   UNNAMED
29 Nov 1887    81   h1  n/a   UNNAMED
 7 Dec 1887    81   h1  n/a   UNNAMED
 9 Dec 1887    58   ts  n/a   UNNAMED
17 Jun 1888    81   h1  n/a   UNNAMED
 5 Jul 1888    58   ts  n/a   UNNAMED
16 Aug 1888   127   h3  n/a   UNNAMED
 3 Sep 1888   127   h3  n/a   UNNAMED
 9 Sep 1888    58   ts  n/a   UNNAMED
26 Sep 1888    81   h1  n/a   UNNAMED
10 Oct 1888   109   h2  n/a   UNNAMED
 4 Nov 1888    58   ts  n/a   UNNAMED
23 Nov 1888    98   h2  n/a   UNNAMED
20 May 1889    81   h1  n/a   UNNAMED
15 Jun 1889    75   h1  n/a   UNNAMED
27 Aug 1889    81   h1  n/a   UNNAMED
 3 Sep 1889   104   h2  n/a   UNNAMED
 7 Sep 1889    81   h1  n/a   UNNAMED
17 Sep 1889   109   h2  n/a   UNNAMED
15 Sep 1889    58   ts  n/a   UNNAMED
 5 Oct 1889    69   ts  n/a   UNNAMED
 6 Oct 1889    58   ts  n/a   UNNAMED
29 May 1890    58   ts  n/a   UNNAMED
24 Aug 1890    58   ts  n/a   UNNAMED
27 Aug 1890   121   h3  n/a   UNNAMED
31 Oct 1890    92   h1  n/a   UNNAMED
 4 Jul 1891    92   h1  n/a   UNNAMED
19 Aug 1891    75   h1  n/a   UNNAMED
19 Aug 1891   127   h3  n/a   UNNAMED
 4 Sep 1891    98   h2  n/a   UNNAMED
20 Sep 1891    98   h2  n/a   UNNAMED
 3 Oct 1891    98   h2  n/a   UNNAMED
 5 Oct 1891    52   ts  n/a   UNNAMED
12 Oct 1891    63   ts  n/a   UNNAMED
16 Oct 1891    86   h1  n/a   UNNAMED
 4 Nov 1891    58   ts  n/a   UNNAMED
12 Jun 1892    52   ts  n/a   UNNAMED
19 Aug 1892    75   h1  n/a   UNNAMED
 7 Sep 1892    98   h2  n/a   UNNAMED
10 Sep 1892    58   ts  n/a   UNNAMED
14 Sep 1892    98   h2  n/a   UNNAMED
26 Sep 1892    58   ts  n/a   UNNAMED
 8 Oct 1892    98   h2  n/a   UNNAMED
14 Oct 1892    92   h1  n/a   UNNAMED
22 Oct 1892    52   ts  n/a   UNNAMED
17 Jun 1893    75   h1  n/a   UNNAMED
 5 Jul 1893    98   h2  n/a   UNNAMED
18 Aug 1893   121   h3  n/a   UNNAMED
22 Aug 1893   115   h3  n/a   UNNAMED
17 Aug 1893    98   h2  n/a   UNNAMED
23 Aug 1893   121   h3  n/a   UNNAMED
23 Aug 1893    98   h2  n/a   UNNAMED
 6 Sep 1893    98   h2  n/a   UNNAMED
 2 Oct 1893   121   h3  n/a   UNNAMED
 2 Oct 1893   132   h4  n/a   UNNAMED
22 Oct 1893    58   ts  n/a   UNNAMED
 8 Nov 1893    69   ts  n/a   UNNAMED
 6 Jun 1894    40   ts  n/a   UNNAMED
 6 Aug 1894    58   ts  n/a   UNNAMED
 6 Sep 1894   115   h3  n/a   UNNAMED
21 Sep 1894   121   h3  n/a   UNNAMED
 6 Oct 1894   121   h3  n/a   UNNAMED
16 Oct 1894   132   h4  n/a   UNNAMED
28 Oct 1894   109   h2  n/a   UNNAMED
15 Aug 1895    58   ts  n/a   UNNAMED
29 Aug 1895   109   h2  n/a   UNNAMED
30 Sep 1895    58   ts  n/a   UNNAMED
 2 Oct 1895    40   ts  n/a   UNNAMED
17 Oct 1895   104   h2  n/a   UNNAMED
13 Oct 1895    40   ts  n/a   UNNAMED
 6 Jul 1896    98   h2  n/a   UNNAMED
 5 Sep 1896   115   h3  n/a   UNNAMED
20 Sep 1896    98   h2  n/a   UNNAMED
28 Sep 1896   127   h3  n/a   UNNAMED
11 Oct 1896    98   h2  n/a   UNNAMED
29 Oct 1896    98   h2  n/a   UNNAMED
28 Nov 1896    58   ts  n/a   UNNAMED
 3 Sep 1897    98   h2  n/a   UNNAMED
11 Sep 1897    86   h1  n/a   UNNAMED
21 Sep 1897    69   ts  n/a   UNNAMED
27 Sep 1897    46   ts  n/a   UNNAMED
18 Oct 1897    81   h1  n/a   UNNAMED
25 Oct 1897    63   ts  n/a   UNNAMED
 2 Aug 1898    81   h1  n/a   UNNAMED
30 Aug 1898    86   h1  n/a   UNNAMED
 3 Sep 1898    81   h1  n/a   UNNAMED
11 Sep 1898   109   h2  n/a   UNNAMED
12 Sep 1898    58   ts  n/a   UNNAMED
20 Sep 1898    58   ts  n/a   UNNAMED
 2 Oct 1898   132   h4  n/a   UNNAMED
27 Sep 1898    52   ts  n/a   UNNAMED
11 Oct 1898    69   ts  n/a   UNNAMED
22 Oct 1898    46   ts  n/a   UNNAMED
27 Oct 1898    58   ts  n/a   UNNAMED
26 Jun 1899    40   ts  n/a   UNNAMED
 1 Aug 1899    98   h2  n/a   UNNAMED
 7 Aug 1899   150   h4  n/a   UNNAMED
 3 Sep 1899   104   h2  n/a   UNNAMED
 9 Sep 1899   121   h3  n/a   UNNAMED
 3 Oct 1899    58   ts  n/a   UNNAMED
10 Oct 1899    46   ts  n/a   UNNAMED
16 Oct 1899    46   ts  n/a   UNNAMED
30 Oct 1899   109   h2  n/a   UNNAMED
 8 Nov 1899    63   ts  n/a   UNNAMED
 7 Sep 1900   144   h4  n/a   UNNAMED
16 Sep 1900   121   h3  n/a   UNNAMED
12 Sep 1900    98   h2  n/a   UNNAMED
11 Sep 1900    52   ts  n/a   UNNAMED
 9 Oct 1900    69   ts  n/a   UNNAMED
11 Oct 1900    46   ts  n/a   UNNAMED
27 Oct 1900    52   ts  n/a   UNNAMED
12 Jun 1901    40   ts  n/a   UNNAMED
 5 Jul 1901    69   ts  n/a   UNNAMED
10 Jul 1901    81   h1  n/a   UNNAMED
13 Aug 1901    92   h1  n/a   UNNAMED
20 Aug 1901    52   ts  n/a   UNNAMED
27 Aug 1901    81   h1  n/a   UNNAMED
 4 Sep 1901   104   h2  n/a   UNNAMED
15 Sep 1901    81   h1  n/a   UNNAMED
14 Sep 1901    58   ts  n/a   UNNAMED
26 Sep 1901    52   ts  n/a   UNNAMED
 7 Oct 1901    69   ts  n/a   UNNAMED
16 Oct 1901    58   ts  n/a   UNNAMED
 3 Nov 1901    81   h1  n/a   UNNAMED
13 Jun 1902    58   ts  n/a   UNNAMED
26 Jun 1902    81   h1  n/a   UNNAMED
21 Sep 1902    98   h2  n/a   UNNAMED
 7 Oct 1902   104   h2  n/a   UNNAMED
 3 Nov 1902    69   ts  n/a   UNNAMED
24 Jul 1903    81   h1  n/a   UNNAMED
 9 Aug 1903   121   h3  n/a   UNNAMED
13 Sep 1903    92   h1  n/a   UNNAMED
15 Sep 1903    98   h2  n/a   UNNAMED
24 Sep 1903    58   ts  n/a   UNNAMED
28 Sep 1903   109   h2  n/a   UNNAMED
 4 Oct 1903    98   h2  n/a   UNNAMED
 8 Oct 1903    69   ts  n/a   UNNAMED
24 Oct 1903    58   ts  n/a   UNNAMED
20 Nov 1903    81   h1  n/a   UNNAMED
13 Jun 1904    81   h1  n/a   UNNAMED
15 Sep 1904    86   h1  n/a   UNNAMED
 1 Oct 1904    81   h1  n/a   UNNAMED
17 Oct 1904    81   h1  n/a   UNNAMED
21 Oct 1904    52   ts  n/a   UNNAMED
 1 Nov 1904    52   ts  n/a   UNNAMED
 6 Sep 1905    58   ts  n/a   UNNAMED
13 Sep 1905    58   ts  n/a   UNNAMED
26 Sep 1905    52   ts  n/a   UNNAMED
 9 Oct 1905   121   h3  n/a   UNNAMED
 8 Oct 1905    52   ts  n/a   UNNAMED
 9 Jun 1906    52   ts  n/a   UNNAMED
19 Jun 1906   104   h2  n/a   UNNAMED
24 Aug 1906    69   ts  n/a   UNNAMED
 5 Sep 1906   132   h4  n/a   UNNAMED
14 Sep 1906    92   h1  n/a   UNNAMED
26 Sep 1906   121   h3  n/a   UNNAMED
23 Sep 1906    69   ts  n/a   UNNAMED
10 Oct 1906   121   h3  n/a   UNNAMED
15 Oct 1906    52   ts  n/a   UNNAMED
18 Oct 1906    52   ts  n/a   UNNAMED
 7 Nov 1906    81   h1  n/a   UNNAMED
29 Jun 1907    63   ts  n/a   UNNAMED
20 Sep 1907    46   ts  n/a   UNNAMED
28 Sep 1907    52   ts  n/a   UNNAMED
17 Oct 1907    52   ts  n/a   UNNAMED
 8 Nov 1907    46   ts  n/a   UNNAMED
 7 Mar 1908    98   h2  n/a   UNNAMED
28 May 1908    75   h1  n/a   UNNAMED
30 Jul 1908    81   h1  n/a   UNNAMED
30 Jul 1908    58   ts  n/a   UNNAMED
 1 Sep 1908    52   ts  n/a   UNNAMED
13 Sep 1908   121   h3  n/a   UNNAMED
18 Sep 1908    69   ts  n/a   UNNAMED
 1 Oct 1908   109   h2  n/a   UNNAMED
17 Oct 1908   104   h2  n/a   UNNAMED
19 Oct 1908    40   ts  n/a   UNNAMED
16 Jun 1909    46   ts  n/a   UNNAMED
29 Jun 1909    98   h2  n/a   UNNAMED
28 Jun 1909    52   ts  n/a   UNNAMED
21 Jul 1909   115   h3  n/a   UNNAMED
 7 Aug 1909    46   ts  n/a   UNNAMED
26 Aug 1909   121   h3  n/a   UNNAMED
23 Aug 1909    52   ts  n/a   UNNAMED
29 Aug 1909    52   ts  n/a   UNNAMED
19 Sep 1909   121   h3  n/a   UNNAMED
27 Sep 1909    58   ts  n/a   UNNAMED
10 Oct 1909   121   h3  n/a   UNNAMED
13 Nov 1909   104   h2  n/a   UNNAMED
28 Aug 1910    46   ts  n/a   UNNAMED
30 Aug 1910    46   ts  n/a   UNNAMED
12 Sep 1910   109   h2  n/a   UNNAMED
25 Sep 1910    98   h2  n/a   UNNAMED
16 Oct 1910   150   h4  n/a   UNNAMED
10 Aug 1911    58   ts  n/a   UNNAMED
11 Aug 1911    81   h1  n/a   UNNAMED
27 Aug 1911    98   h2  n/a   UNNAMED
 9 Sep 1911    98   h2  n/a   UNNAMED
17 Sep 1911    63   ts  n/a   UNNAMED
27 Oct 1911    52   ts  n/a   UNNAMED
 9 Jun 1912    69   ts  n/a   UNNAMED
15 Jul 1912    52   ts  n/a   UNNAMED
 3 Sep 1912    52   ts  n/a   UNNAMED
13 Sep 1912    92   h1  n/a   UNNAMED
 6 Oct 1912    92   h1  n/a   UNNAMED
15 Oct 1912    98   h2  n/a   UNNAMED
17 Nov 1912   115   h3  n/a   UNNAMED
27 Jun 1913    75   h1  n/a   UNNAMED
15 Aug 1913    46   ts  n/a   UNNAMED
 8 Sep 1913    69   ts  n/a   UNNAMED
 2 Sep 1913    86   h1  n/a   UNNAMED
 8 Oct 1913    75   h1  n/a   UNNAMED
29 Oct 1913    75   h1  n/a   UNNAMED
17 Sep 1914    69   ts  n/a   UNNAMED
 1 Aug 1915    75   h1  n/a   UNNAMED
14 Aug 1915   144   h4  n/a   UNNAMED
 2 Sep 1915   121   h3  n/a   UNNAMED
 2 Sep 1915    98   h2  n/a   UNNAMED
22 Sep 1915    58   ts  n/a   UNNAMED
25 Sep 1915   144   h4  n/a   UNNAMED
17 May 1916    58   ts  n/a   UNNAMED
 5 Jul 1916   121   h3  n/a   UNNAMED
16 Jul 1916   104   h2  n/a   UNNAMED
13 Jul 1916   115   h3  n/a   UNNAMED
 6 Aug 1916    58   ts  n/a   UNNAMED
18 Aug 1916   132   h4  n/a   UNNAMED
22 Aug 1916   109   h2  n/a   UNNAMED
28 Aug 1916    81   h1  n/a   UNNAMED
 5 Sep 1916    52   ts  n/a   UNNAMED
18 Sep 1916    86   h1  n/a   UNNAMED
22 Sep 1916   121   h3  n/a   UNNAMED
 3 Oct 1916    58   ts  n/a   UNNAMED
12 Oct 1916   121   h3  n/a   UNNAMED
14 Oct 1916   109   h2  n/a   UNNAMED
14 Nov 1916    69   ts  n/a   UNNAMED
 8 Jul 1917    52   ts  n/a   UNNAMED
10 Aug 1917    69   ts  n/a   UNNAMED
 4 Sep 1917   121   h3  n/a   UNNAMED
25 Sep 1917   150   h4  n/a   UNNAMED
 6 Aug 1918   121   h3  n/a   UNNAMED
25 Aug 1918   104   h2  n/a   UNNAMED
24 Aug 1918    75   h1  n/a   UNNAMED
 4 Sep 1918    69   ts  n/a   UNNAMED
 5 Sep 1918   109   h2  n/a   UNNAMED
11 Sep 1918    46   ts  n/a   UNNAMED
 3 Jul 1919    63   ts  n/a   UNNAMED
 3 Sep 1919    98   h2  n/a   UNNAMED
10 Sep 1919   150   h4  n/a   UNNAMED
30 Sep 1919    46   ts  n/a   UNNAMED
12 Nov 1919    69   ts  n/a   UNNAMED
12 Sep 1920   109   h2  n/a   UNNAMED
22 Sep 1920    98   h2  n/a   UNNAMED
22 Sep 1920    86   h1  n/a   UNNAMED
24 Sep 1920    46   ts  n/a   UNNAMED
29 Sep 1920    86   h1  n/a   UNNAMED
22 Jun 1921    92   h1  n/a   UNNAMED
 7 Sep 1921    81   h1  n/a   UNNAMED
11 Sep 1921   127   h3  n/a   UNNAMED
12 Sep 1921    92   h1  n/a   UNNAMED
21 Oct 1921    81   h1  n/a   UNNAMED
23 Oct 1921   138   h4  n/a   UNNAMED
21 Nov 1921    58   ts  n/a   UNNAMED
15 Jun 1922    52   ts  n/a   UNNAMED
17 Sep 1922   121   h3  n/a   UNNAMED
20 Sep 1922    81   h1  n/a   UNNAMED
18 Oct 1922   109   h2  n/a   UNNAMED
15 Oct 1922    52   ts  n/a   UNNAMED
28 Jun 1923    58   ts  n/a   UNNAMED
 7 Sep 1923   104   h2  n/a   UNNAMED
 8 Sep 1923    52   ts  n/a   UNNAMED
12 Sep 1923    81   h1  n/a   UNNAMED
29 Sep 1923   121   h3  n/a   UNNAMED
16 Oct 1923    81   h1  n/a   UNNAMED
16 Oct 1923    63   ts  n/a   UNNAMED
17 Oct 1923    58   ts  n/a   UNNAMED
26 Oct 1923    46   ts  n/a   UNNAMED
18 Jun 1924    46   ts  n/a   UNNAMED
29 Jul 1924    63   ts  n/a   UNNAMED
23 Aug 1924   121   h3  n/a   UNNAMED
28 Aug 1924   109   h2  n/a   UNNAMED
15 Sep 1924    86   h1  n/a   UNNAMED
20 Sep 1924    46   ts  n/a   UNNAMED
 5 Oct 1924    58   ts  n/a   UNNAMED
30 Sep 1924    75   h1  n/a   UNNAMED
12 Oct 1924    58   ts  n/a   UNNAMED
19 Oct 1924   167   h5  n/a   UNNAMED
10 Nov 1924    81   h1  n/a   UNNAMED
20 Aug 1925    81   h1  n/a   UNNAMED
26 Aug 1925    40   ts  n/a   UNNAMED
 6 Sep 1925    52   ts  n/a   UNNAMED
 2 Dec 1925    92   h1  n/a   UNNAMED
26 Jul 1926   138   h4  n/a   UNNAMED
 5 Aug 1926   121   h3  n/a   UNNAMED
25 Aug 1926   115   h3  n/a   UNNAMED
12 Sep 1926   132   h4  n/a   UNNAMED
12 Sep 1926   104   h2  n/a   UNNAMED
15 Sep 1926    40   ts  n/a   UNNAMED
16 Sep 1926   150   h4  n/a   UNNAMED
24 Sep 1926   104   h2  n/a   UNNAMED
 3 Oct 1926    40   ts  n/a   UNNAMED
20 Oct 1926   150   h4  n/a   UNNAMED
13 Nov 1926    40   ts  n/a   UNNAMED
21 Aug 1927   127   h3  n/a   UNNAMED
 9 Sep 1927    92   h1  n/a   UNNAMED
28 Sep 1927    81   h1  n/a   UNNAMED
26 Sep 1927   109   h2  n/a   UNNAMED
 2 Oct 1927    58   ts  n/a   UNNAMED
17 Oct 1927    46   ts  n/a   UNNAMED
31 Oct 1927    46   ts  n/a   UNNAMED
20 Nov 1927    58   ts  n/a   UNNAMED
 7 Aug 1928   104   h2  n/a   UNNAMED
10 Aug 1928    92   h1  n/a   UNNAMED
 4 Sep 1928    58   ts  n/a   UNNAMED
13 Sep 1928   161   h5  n/a   UNNAMED
10 Sep 1928    69   ts  n/a   UNNAMED
14 Oct 1928    92   h1  n/a   UNNAMED
28 Jun 1929    92   h1  n/a   UNNAMED
25 Sep 1929   155   h4  n/a   UNNAMED
26 Sep 1929    58   ts  n/a   UNNAMED
15 Oct 1929    69   ts  n/a   UNNAMED
21 Oct 1929    81   h1  n/a   UNNAMED
25 Aug 1930   127   h3  n/a   UNNAMED
 3 Sep 1930   155   h4  n/a   UNNAMED
19 Oct 1930    69   ts  n/a   UNNAMED
25 Jun 1931    52   ts  n/a   UNNAMED
14 Jul 1931    69   ts  n/a   UNNAMED
12 Aug 1931    58   ts  n/a   UNNAMED
17 Aug 1931    40   ts  n/a   UNNAMED
 3 Sep 1931    46   ts  n/a   UNNAMED
10 Sep 1931   132   h4  n/a   UNNAMED
16 Sep 1931    98   h2  n/a   UNNAMED
28 Sep 1931    75   h1  n/a   UNNAMED
15 Oct 1931    46   ts  n/a   UNNAMED
21 Oct 1931    63   ts  n/a   UNNAMED
 2 Nov 1931    58   ts  n/a   UNNAMED
14 Nov 1931    52   ts  n/a   UNNAMED
24 Nov 1931    63   ts  n/a   UNNAMED
 8 May 1932    63   ts  n/a   UNNAMED
14 Aug 1932   150   h4  n/a   UNNAMED
 1 Sep 1932    86   h1  n/a   UNNAMED
 5 Sep 1932   161   h5  n/a   UNNAMED
 5 Sep 1932    69   ts  n/a   UNNAMED
17 Sep 1932    75   h1  n/a   UNNAMED
21 Sep 1932    63   ts  n/a   UNNAMED
19 Sep 1932    63   ts  n/a   UNNAMED
26 Sep 1932   144   h4  n/a   UNNAMED
28 Sep 1932    46   ts  n/a   UNNAMED
 9 Oct 1932    69   ts  n/a   UNNAMED
10 Oct 1932    58   ts  n/a   UNNAMED
19 Oct 1932    69   ts  n/a   UNNAMED
 6 Nov 1932   173   h5  n/a   UNNAMED
 8 Nov 1932    98   h2  n/a   UNNAMED
16 May 1933    52   ts  n/a   UNNAMED
 5 Jul 1933   109   h2  n/a   UNNAMED
18 Jul 1933    52   ts  n/a   UNNAMED
25 Jul 1933    58   ts  n/a   UNNAMED
 4 Aug 1933    92   h1  n/a   UNNAMED
19 Aug 1933   138   h4  n/a   UNNAMED
18 Aug 1933    46   ts  n/a   UNNAMED
31 Aug 1933   161   h5  n/a   UNNAMED
28 Aug 1933    63   ts  n/a   UNNAMED
28 Aug 1933    40   ts  n/a   UNNAMED
 3 Sep 1933   138   h4  n/a   UNNAMED
12 Sep 1933   138   h4  n/a   UNNAMED
15 Sep 1933   109   h2  n/a   UNNAMED
21 Sep 1933   161   h5  n/a   UNNAMED
26 Sep 1933    75   h1  n/a   UNNAMED
 2 Oct 1933    46   ts  n/a   UNNAMED
 6 Oct 1933   127   h3  n/a   UNNAMED
29 Oct 1933    92   h1  n/a   UNNAMED
29 Oct 1933    81   h1  n/a   UNNAMED
16 Nov 1933    58   ts  n/a   UNNAMED
14 Jun 1934    98   h2  n/a   UNNAMED
15 Jul 1934    92   h1  n/a   UNNAMED
25 Jul 1934    86   h1  n/a   UNNAMED
20 Aug 1934    40   ts  n/a   UNNAMED
27 Aug 1934    81   h1  n/a   UNNAMED
 2 Sep 1934    52   ts  n/a   UNNAMED
 7 Sep 1934   104   h2  n/a   UNNAMED
17 Sep 1934    52   ts  n/a   UNNAMED
24 Sep 1934    58   ts  n/a   UNNAMED
 2 Oct 1934    98   h2  n/a   UNNAMED
 5 Oct 1934    58   ts  n/a   UNNAMED
20 Oct 1934    46   ts  n/a   UNNAMED
23 Nov 1934   115   h3  n/a   UNNAMED
17 May 1935    58   ts  n/a   UNNAMED
21 Aug 1935   132   h4  n/a   UNNAMED
 3 Sep 1935   184   h5  n/a   UNNAMED
 1 Sep 1935    58   ts  n/a   UNNAMED
29 Sep 1935   138   h4  n/a   UNNAMED
22 Oct 1935    86   h1  n/a   UNNAMED
 3 Nov 1935   104   h2  n/a   UNNAMED
 4 Nov 1935    46   ts  n/a   UNNAMED
12 Jun 1936    46   ts  n/a   UNNAMED
20 Jun 1936    52   ts  n/a   UNNAMED
27 Jun 1936    81   h1  n/a   UNNAMED
27 Jul 1936    46   ts  n/a   UNNAMED
31 Jul 1936   104   h2  n/a   UNNAMED
10 Aug 1936    52   ts  n/a   UNNAMED
 9 Aug 1936    40   ts  n/a   UNNAMED
16 Aug 1936    75   h1  n/a   UNNAMED
21 Aug 1936    58   ts  n/a   UNNAMED
 1 Sep 1936   109   h2  n/a   UNNAMED
30 Aug 1936    81   h1  n/a   UNNAMED
 7 Sep 1936    40   ts  n/a   UNNAMED
15 Sep 1936   121   h3  n/a   UNNAMED
12 Sep 1936    52   ts  n/a   UNNAMED
21 Sep 1936   104   h2  n/a   UNNAMED
 9 Oct 1936    40   ts  n/a   UNNAMED
 6 Dec 1936    63   ts  n/a   UNNAMED
31 Jul 1937    69   ts  n/a   UNNAMED
 7 Aug 1937    63   ts  n/a   UNNAMED
30 Aug 1937    69   ts  n/a   UNNAMED
12 Sep 1937    98   h2  n/a   UNNAMED
11 Sep 1937    69   ts  n/a   UNNAMED
15 Sep 1937   127   h3  n/a   UNNAMED
18 Sep 1937    58   ts  n/a   UNNAMED
23 Sep 1937    98   h2  n/a   UNNAMED
 1 Oct 1937    75   h1  n/a   UNNAMED
 2 Oct 1937    46   ts  n/a   UNNAMED
19 Oct 1937    81   h1  n/a   UNNAMED
 4 Jan 1938    81   h1  n/a   UNNAMED
 8 Aug 1938    69   ts  n/a   UNNAMED
12 Aug 1938    98   h2  n/a   UNNAMED
25 Aug 1938   121   h3  n/a   UNNAMED
13 Sep 1938    40   ts  n/a   UNNAMED
19 Sep 1938   161   h5  n/a   UNNAMED
14 Oct 1938    58   ts  n/a   UNNAMED
19 Oct 1938    40   ts  n/a   UNNAMED
 7 Nov 1938    69   ts  n/a   UNNAMED
13 Jun 1939    63   ts  n/a   UNNAMED
11 Aug 1939    75   h1  n/a   UNNAMED
18 Aug 1939    63   ts  n/a   UNNAMED
26 Sep 1939    52   ts  n/a   UNNAMED
15 Oct 1939   138   h4  n/a   UNNAMED
 1 Nov 1939    92   h1  n/a   UNNAMED
22 May 1940    63   ts  n/a   UNNAMED
 7 Aug 1940    98   h2  n/a   UNNAMED
11 Aug 1940    98   h2  n/a   UNNAMED
 1 Sep 1940   109   h2  n/a   UNNAMED
13 Sep 1940    98   h2  n/a   UNNAMED
21 Sep 1940    52   ts  n/a   UNNAMED
23 Sep 1940    98   h2  n/a   UNNAMED
22 Oct 1940    81   h1  n/a   UNNAMED
27 Oct 1940    81   h1  n/a   UNNAMED
12 Sep 1941    58   ts  n/a   UNNAMED
23 Sep 1941   127   h3  n/a   UNNAMED
22 Sep 1941    81   h1  n/a   UNNAMED
27 Sep 1941   132   h4  n/a   UNNAMED
 5 Oct 1941   121   h3  n/a   UNNAMED
19 Oct 1941    52   ts  n/a   UNNAMED
 5 Aug 1942    58   ts  n/a   UNNAMED
19 Aug 1942    81   h1  n/a   UNNAMED
29 Aug 1942   115   h3  n/a   UNNAMED
26 Aug 1942   109   h2  n/a   UNNAMED
17 Sep 1942    52   ts  n/a   UNNAMED
19 Sep 1942    52   ts  n/a   UNNAMED
28 Sep 1942    52   ts  n/a   UNNAMED
 2 Oct 1942    69   ts  n/a   UNNAMED
11 Oct 1942    52   ts  n/a   UNNAMED
16 Oct 1942    52   ts  n/a   UNNAMED
 8 Nov 1942   109   h2  n/a   UNNAMED
27 Jul 1943   104   h2  n/a   UNNAMED
16 Aug 1943    58   ts  n/a   UNNAMED
24 Aug 1943   138   h4  n/a   UNNAMED
 4 Sep 1943   121   h3  n/a   UNNAMED
13 Sep 1943    52   ts  n/a   UNNAMED
17 Sep 1943    98   h2  n/a   UNNAMED
30 Sep 1943    63   ts  n/a   UNNAMED
 1 Oct 1943    69   ts  n/a   UNNAMED
16 Oct 1943   109   h2  n/a   UNNAMED
21 Oct 1943    46   ts  n/a   UNNAMED
17 Jul 1944    81   h1  n/a   UNNAMED
25 Jul 1944    63   ts  n/a   UNNAMED
 1 Aug 1944    81   h1  n/a   UNNAMED
19 Aug 1944   121   h3  n/a   UNNAMED
21 Aug 1944    58   ts  n/a   UNNAMED
10 Sep 1944    63   ts  n/a   UNNAMED
13 Sep 1944   144   h4  n/a   UNNAMED
20 Sep 1944    81   h1  n/a   UNNAMED
25 Sep 1944    98   h2  n/a   UNNAMED
 1 Oct 1944    52   ts  n/a   UNNAMED
30 Sep 1944    46   ts  n/a   UNNAMED
12 Oct 1944    81   h1  n/a   UNNAMED
18 Oct 1944   144   h4  n/a   UNNAMED
 2 Nov 1944    69   ts  n/a   UNNAMED
23 Jun 1945    98   h2  n/a   UNNAMED
20 Jul 1945    40   ts  n/a   UNNAMED
 3 Aug 1945    58   ts  n/a   UNNAMED
18 Aug 1945    69   ts  n/a   UNNAMED
26 Aug 1945   115   h3  n/a   UNNAMED
31 Aug 1945    69   ts  n/a   UNNAMED
 4 Sep 1945    40   ts  n/a   UNNAMED
10 Sep 1945    58   ts  n/a   UNNAMED
15 Sep 1945   132   h4  n/a   UNNAMED
 4 Oct 1945    92   h1  n/a   UNNAMED
12 Oct 1945    98   h2  n/a   UNNAMED
14 Jun 1946    40   ts  n/a   UNNAMED
 7 Jul 1946    81   h1  n/a   UNNAMED
25 Aug 1946    40   ts  n/a   UNNAMED
13 Sep 1946    98   h2  n/a   UNNAMED
 4 Oct 1946    92   h1  n/a   UNNAMED
 7 Oct 1946    98   h2  n/a   UNNAMED
 1 Nov 1946    46   ts  n/a   UNNAMED
 2 Aug 1947    52   ts  n/a   UNNAMED
15 Aug 1947   109   h2  n/a   UNNAMED
24 Aug 1947    81   h1  n/a   UNNAMED
14 Sep 1947   144   h4  n/a   UNNAMED
 8 Sep 1947    58   ts  n/a   UNNAMED
23 Sep 1947    63   ts  n/a   UNNAMED
 7 Oct 1947    58   ts  n/a   UNNAMED
 8 Oct 1947    58   ts  n/a   UNNAMED
15 Oct 1947   104   h2  n/a   UNNAMED
19 Oct 1947   121   h3  n/a   UNNAMED
25 May 1948    52   ts  n/a   UNNAMED
 9 Jul 1948    40   ts  n/a   UNNAMED
28 Aug 1948   121   h3  n/a   UNNAMED
30 Aug 1948    58   ts  n/a   UNNAMED
 4 Sep 1948    81   h1  n/a   UNNAMED
13 Sep 1948   132   h4  n/a   UNNAMED
 8 Sep 1948    63   ts  n/a   UNNAMED
22 Sep 1948   132   h4  n/a   UNNAMED
 5 Oct 1948   127   h3  n/a   UNNAMED
10 Nov 1948    75   h1  n/a   UNNAMED
24 Aug 1949   109   h2  n/a   UNNAMED
26 Aug 1949   132   h4  n/a   UNNAMED
31 Aug 1949    46   ts  n/a   UNNAMED
 8 Sep 1949   127   h3  n/a   UNNAMED
 4 Sep 1949    58   ts  n/a   UNNAMED
14 Sep 1949    75   h1  n/a   UNNAMED
12 Sep 1949    52   ts  n/a   UNNAMED
14 Sep 1949    58   ts  n/a   UNNAMED
25 Sep 1949    92   h1  n/a   UNNAMED
21 Sep 1949    81   h1  n/a   UNNAMED
 3 Oct 1949   109   h2  n/a   UNNAMED
 4 Oct 1949    58   ts  n/a   UNNAMED
15 Oct 1949    92   h1  n/a   UNNAMED
15 Oct 1949    58   ts  n/a   UNNAMED
 2 Nov 1949    52   ts  n/a   UNNAMED
 3 Nov 1949    63   ts  n/a   UNNAMED
19 Aug 1950   127   h3  n/a   ABLE
30 Aug 1950   104   h2  n/a   BAKER
31 Aug 1950   109   h2  n/a   CHARLIE
 5 Sep 1950   144   h4  n/a   DOG
 5 Sep 1950   121   h3  n/a   EASY
14 Sep 1950   138   h4  n/a   FOX
 3 Oct 1950   109   h2  n/a   GEORGE
 2 Oct 1950    46   ts  n/a   HOW
10 Oct 1950   104   h2  n/a   ITEM
15 Oct 1950   115   h3  n/a   JIG
18 Oct 1950   132   h4  n/a   KING
21 Oct 1950    69   ts  n/a   UNNAMED
20 Oct 1950    81   h1  n/a   LOVE
26 Oct 1950    46   ts  n/a   MIKE
28 Oct 1950    52   ts  n/a   UNNAMED
10 Nov 1950    69   ts  n/a   UNNAMED
 6 Jan 1951    63   ts  n/a   UNNAMED
22 May 1951    92   h1  n/a   ABLE
 3 Aug 1951    58   ts  n/a   BAKER
20 Aug 1951   132   h4  n/a   CHARLIE
 2 Sep 1951    92   h1  n/a   DOG
 8 Sep 1951   150   h4  n/a   EASY
 7 Sep 1951   115   h3  n/a   FOX
20 Sep 1951    58   ts  n/a   GEORGE
 4 Oct 1951    98   h2  n/a   HOW
14 Oct 1951    63   ts  n/a   ITEM
15 Oct 1951    75   h1  n/a   JIG
 7 Dec 1951    81   h1  n/a   UNNAMED
 3 Feb 1952    69   ts  n/a   UNNAMED
31 Aug 1952    98   h2  n/a   ABLE
27 Aug 1952    52   ts  n/a   UNNAMED
 7 Sep 1952   109   h2  n/a   BAKER
 9 Sep 1952    52   ts  n/a   UNNAMED
26 Sep 1952   121   h3  n/a   CHARLIE
26 Sep 1952    69   ts  n/a   DOG
26 Sep 1952    46   ts  n/a   UNNAMED
 8 Oct 1952   104   h2  n/a   EASY
24 Oct 1952   144   h4  n/a   FOX
27 Nov 1952    58   ts  n/a   UNNAMED
 5 Jun 1953    69   ts  n/a   ALICE
15 Jul 1953    52   ts  n/a   UNNAMED
14 Aug 1953    92   h1  n/a   BARBARA
 3 Sep 1953   161   h5  n/a   CAROL
30 Aug 1953    40   ts  n/a   UNNAMED
10 Sep 1953    75   h1  n/a   DOLLY
17 Sep 1953   115   h3  n/a   EDNA
16 Sep 1953    52   ts  n/a   UNNAMED
25 Sep 1953   115   h3  n/a   FLORENCE
 3 Oct 1953    81   h1  n/a   GAIL
 7 Oct 1953    63   ts  n/a   UNNAMED
 9 Oct 1953    86   h1  n/a   HAZEL
24 Nov 1953    52   ts  n/a   UNNAMED
 8 Dec 1953    63   ts  n/a   UNNAMED
30 May 1954    52   ts  n/a   UNNAMED
22 Jun 1954    69   ts  n/a   UNNAMED
25 Jun 1954   109   h2  n/a   ALICE
11 Jul 1954    52   ts  n/a   UNNAMED
28 Jul 1954    58   ts  n/a   BARBARA
31 Aug 1954   115   h3  n/a   CAROL
 1 Sep 1954    86   h1  n/a   DOLLY
 9 Sep 1954   127   h3  n/a   EDNA
 7 Sep 1954    46   ts  n/a   UNNAMED
12 Sep 1954    63   ts  n/a   FLORENCE
16 Sep 1954    46   ts  n/a   UNNAMED
26 Sep 1954    69   ts  n/a   GILDA
 5 Oct 1954    98   h2  n/a   UNNAMED
15 Oct 1954   132   h4  n/a   HAZEL
17 Nov 1954    40   ts  n/a   UNNAMED
 1 Jan 1955    92   h1  n/a   ALICE
 1 Aug 1955    69   ts  n/a   BRENDA
 7 Aug 1955   138   h4  n/a   CONNIE
13 Aug 1955   104   h2  n/a   DIANE
30 Aug 1955    98   h2  n/a   EDITH
27 Aug 1955    52   ts  n/a   UNNAMED
 6 Sep 1955   104   h2  n/a   FLORA
 5 Sep 1955    75   h1  n/a   GLADYS
17 Sep 1955   138   h4  n/a   IONE
16 Sep 1955   121   h3  n/a   HILDA
28 Sep 1955   173   h5  n/a   JANET
27 Sep 1955    52   ts  n/a   UNNAMED
11 Oct 1955    63   ts  n/a   UNNAMED
17 Oct 1955   109   h2  n/a   KATIE
13 Jun 1956    58   ts  n/a   UNNAMED
26 Jul 1956    86   h1  n/a   ANNA
14 Aug 1956   121   h3  n/a   BETSY
10 Sep 1956    69   ts  n/a   CARLA
12 Sep 1956    58   ts  n/a   DORA
12 Sep 1956    58   ts  n/a   ETHEL
24 Sep 1956    92   h1  n/a   FLOSSY
 4 Nov 1956    98   h2  n/a   GRETA
 8 Jun 1956    46   ts  n/a   UNNAMED
 9 Oct 1956    46   ts  n/a   UNNAMED
16 Oct 1956    63   ts  n/a   UNNAMED
19 Nov 1956    46   ts  n/a   UNNAMED
10 Jun 1957    75   h1  n/a   UNNAMED
27 Jun 1957   127   h3  n/a   AUDREY
 9 Aug 1957    63   ts  n/a   BERTHA
 8 Sep 1957   138   h4  n/a   CARRIE
 7 Sep 1957    40   ts  n/a   DEBBIE
18 Sep 1957    63   ts  n/a   ESTHER
25 Sep 1957    86   h1  n/a   FRIEDA
24 Oct 1957    58   ts  n/a   UNNAMED
15 Jun 1958    63   ts  n/a   ALMA
17 Aug 1958    69   ts  n/a   BECKY
15 Aug 1958   138   h4  n/a   CLEO
27 Aug 1958   132   h4  n/a   DAISY
 1 Sep 1958   109   h2  n/a   ELLA
 6 Sep 1958    86   h1  n/a   FIFI
14 Sep 1958    58   ts  n/a   GERDA
27 Sep 1958   150   h4  n/a   HELENE
26 Sep 1958   109   h2  n/a   ILSA
10 Oct 1958    98   h2  n/a   JANICE
28 May 1958    63   ts  n/a   UNNAMED
18 Oct 1958    69   ts  n/a   UNNAMED
30 May 1959    63   ts  n/a   ARLENE
16 Jun 1959    69   ts  n/a   BEULAH
19 Jun 1959    86   h1  n/a   UNNAMED
 8 Jul 1959    75   h1  n/a   CINDY
25 Jul 1959    86   h1  n/a   DEBRA
18 Aug 1959    58   ts  n/a   EDITH
11 Sep 1959    75   h1  n/a   FLORA
29 Sep 1959   132   h4  n/a   GRACIE
30 Sep 1959   121   h3  n/a   HANNAH
 8 Oct 1959    46   ts  n/a   IRENE
19 Oct 1959    86   h1  n/a   JUDITH
 2 Aug 1959    69   ts  n/a   UNNAMED
 4 Sep 1959    69   ts  n/a   UNNAMED
12 Sep 1959    63   ts  n/a   UNNAMED
24 Jun 1960    58   ts  n/a   UNNAMED
15 Jul 1960    81   h1  n/a   ABBY
29 Jul 1960    69   ts  n/a   BRENDA
19 Aug 1960    86   h1  n/a   CLEO
 7 Sep 1960   144   h4  n/a   DONNA
14 Sep 1960   115   h3  n/a   ETHEL
24 Sep 1960    58   ts  n/a   FLORENCE
 1 Sep 1960    46   ts  n/a   UNNAMED
22 Jul 1961   104   h2  n/a   ANNA
 6 Sep 1961   132   h4  n/a   BETSY
11 Sep 1961   144   h4  n/a   CARLA
11 Sep 1961    92   h1  n/a   DEBBIE
17 Sep 1961   161   h5  n/a   ESTHER
15 Sep 1961    69   ts  n/a   UNNAMED
 7 Oct 1961   132   h4  n/a   FRANCES
21 Oct 1961    75   h1  n/a   GERDA
31 Oct 1961   167   h5  n/a   HATTIE
 6 Nov 1961    81   h1  n/a   JENNY
 4 Nov 1961    69   ts  n/a   INGA
20 Nov 1961    58   ts  n/a   UNNAMED
28 Aug 1962    86   h1  n/a   ALMA
29 Aug 1962    58   ts  n/a   BECKY
13 Sep 1962    69   ts  n/a   CELIA
 6 Oct 1962   104   h2  n/a   DAISY
20 Oct 1962   109   h2  n/a   ELLA
30 Jun 1962    63   ts  n/a   UNNAMED
 1 Dec 1962    92   h1  n/a   UNNAMED
 9 Aug 1963   115   h3  n/a   ARLENE
24 Aug 1963   121   h3  n/a   BEULAH
12 Sep 1963    81   h1  n/a   UNNAMED
17 Sep 1963    63   ts  n/a   CINDY
21 Sep 1963    75   h1  n/a   DEBRA
25 Sep 1963    98   h2  n/a   EDITH
 3 Oct 1963   150   h4  n/a   FLORA
28 Oct 1963   109   h2  n/a   GINNY
27 Oct 1963    52   ts  n/a   HELENA
 3 Jun 1963    58   ts  n/a   UNNAMED
 9 Jun 1964    69   ts  n/a   UNNAMED
 1 Aug 1964    86   h1  n/a   UNNAMED
 7 Aug 1964    69   ts  n/a   ABBY
 8 Aug 1964    52   ts  n/a   BRENDA
23 Aug 1964   150   h4  n/a   CLEO
 6 Sep 1964   132   h4  n/a   DORA
13 Sep 1964   104   h2  n/a   ETHEL
 8 Sep 1964    46   ts  n/a   FLORENCE
17 Sep 1964   132   h4  n/a   GLADYS
 1 Oct 1964   138   h4  n/a   HILDA
14 Oct 1964   115   h3  n/a   ISBELL
 7 Nov 1964    69   ts  n/a   UNNAMED
26 Jul 1964    58   ts  n/a   UNNAMED
15 Jun 1965    58   ts  n/a   UNNAMED
24 Aug 1965   104   h2  n/a   ANNA
 2 Sep 1965   138   h4  n/a   BETSY
21 Sep 1965    92   h1  n/a   CAROL
28 Sep 1965    58   ts  n/a   DEBBIE
18 Oct 1965   109   h2  n/a   ELENA
 7 Sep 1965    58   ts  n/a   UNNAMED
29 Sep 1965    69   ts  n/a   UNNAMED
18 Oct 1965    63   ts  n/a   UNNAMED
27 Nov 1965    52   ts  n/a   UNNAMED
 8 Jun 1966   127   h3  n/a   ALMA
 2 Jul 1966    75   h1  n/a   BECKY
20 Jul 1966    81   h1  n/a   CELIA
25 Jul 1966    52   ts  n/a   ELLA
28 Jul 1966    86   h1  n/a   DOROTHY
28 Aug 1966   127   h3  n/a   FAITH
 4 Sep 1966    58   ts  n/a   GRETA
21 Sep 1966    52   ts  n/a   HALLIE
28 Sep 1966   150   h4  n/a   INEZ
29 Sep 1966    52   ts  n/a   JUDITH
 8 Nov 1966    81   h1  n/a   LOIS
 3 Sep 1967    86   h1  n/a   ARLENE
13 Sep 1967   109   h2  n/a   CHLOE
20 Sep 1967   161   h5  n/a   BEULAH
13 Sep 1967    86   h1  n/a   DORIA
29 Sep 1967    58   ts  n/a   EDITH
 3 Oct 1967    86   h1  n/a   FERN
 6 Oct 1967    52   ts  n/a   GINGER
26 Oct 1967    92   h1  n/a   HEIDI
 3 Jun 1968    75   h1  n/a   ABBY
23 Jun 1968    75   h1  n/a   BRENDA
24 Jun 1968    69   ts  n/a   CANDY
14 Aug 1968    81   h1  n/a   DOLLY
15 Sep 1968    63   ts  n/a   EDNA
20 Sep 1968    81   h1  n/a   UNNAMED
27 Sep 1968    58   ts  n/a   FRANCES
19 Oct 1968    86   h1  n/a   GLADYS
29 Jul 1969    69   ts  n/a   ANNA
11 Aug 1969    86   h1  n/a   BLANCHE
20 Aug 1969   121   h3  n/a   DEBBIE
16 Aug 1969   173   h5  n/a   CAMILLE
26 Aug 1969    58   ts  n/a   EVE
 2 Sep 1969   115   h3  n/a   FRANCELIA
 9 Sep 1969   127   h3  n/a   GERDA
15 Sep 1969    86   h1  n/a   HOLLY
 5 Oct 1969   115   h3  n/a   INGA
24 Sep 1969    75   h1  n/a   UNNAMED
27 Sep 1969    69   ts  n/a   UNNAMED
30 Sep 1969    58   ts  n/a   UNNAMED
 2 Oct 1969    46   ts  n/a   JENNY
18 Oct 1969   104   h2  n/a   KARA
21 Oct 1969   104   h2  n/a   LAURIE
30 Oct 1969    69   ts  n/a   UNNAMED
 4 Nov 1969    75   h1  n/a   UNNAMED
22 Nov 1969    92   h1  n/a   MARTHA
20 May 1970    81   h1  n/a   ALMA
21 Jul 1970    63   ts  n/a   BECKY
 3 Aug 1970   127   h3  n/a   CELIA
18 Aug 1970    69   ts  n/a   UNNAMED
20 Aug 1970    69   ts  n/a   DOROTHY
12 Sep 1970   127   h3  n/a   ELLA
16 Sep 1970    69   ts  n/a   FELICE
27 Sep 1970    52   ts  n/a   GRETA
17 Oct 1970   104   h2  n/a   UNNAMED
27 Oct 1970    75   h1  n/a   UNNAMED
 6 Jul 1971    63   ts  n/a   ARLENE
 6 Aug 1971    86   h1  n/a   UNNAMED
15 Aug 1971    86   h1  n/a   BETH
20 Aug 1971    63   ts  n/a   CHLOE
27 Aug 1971    63   ts  n/a   DORIA
 9 Sep 1971    92   h1  n/a   FERN
 9 Sep 1971   161   h5  n/a   EDITH
14 Sep 1971   109   h2  n/a   GINGER
14 Sep 1971    63   ts  n/a   HEIDI
18 Sep 1971    81   h1  n/a   IRENE
22 Sep 1971    63   ts  n/a   JANICE
20 Oct 1971    52   ts  n/a   KRISTY
15 Nov 1971    69   ts  n/a   LAURA
26 May 1972    69   ts  n/a   ALPHA
19 Jun 1972    86   h1  n/a   AGNES
28 Aug 1972   104   h2  n/a   BETTY
 3 Sep 1972    69   ts  n/a   CARRIE
 8 Sep 1972    81   h1  n/a   DAWN
21 Sep 1972    69   ts  n/a   CHARLIE
 2 Nov 1972    46   ts  n/a   DELTA
 4 Jul 1973    92   h1  n/a   ALICE
31 Jul 1973    46   ts  n/a   ALFA
21 Aug 1973    92   h1  n/a   BRENDA
 2 Sep 1973    69   ts  n/a   CHRISTINE
 3 Sep 1973    69   ts  n/a   DELIA
22 Sep 1973   115   h3  n/a   ELLEN
11 Oct 1973    81   h1  n/a   FRAN
18 Oct 1973    69   ts  n/a   GILDA
25 Jun 1974    63   ts  n/a   UNNAMED
18 Jul 1974    52   ts  n/a   UNNAMED
14 Aug 1974    58   ts  n/a   UNNAMED
13 Aug 1974    63   ts  n/a   ALMA
30 Aug 1974   115   h3  n/a   BECKY
 2 Sep 1974   150   h4  n/a   CARMEN
 3 Sep 1974    52   ts  n/a   DOLLY
10 Sep 1974    69   ts  n/a   ELAINE
18 Sep 1974   109   h2  n/a   FIFI
29 Sep 1974    75   h1  n/a   GERTRUDE
 7 Oct 1974    52   ts  n/a   UNNAMED
30 Jun 1975    69   ts  n/a   AMY
27 Jul 1975    86   h1  n/a   BLANCHE
31 Aug 1975   115   h3  n/a   CAROLINE
 2 Sep 1975   109   h2  n/a   DORIS
23 Sep 1975   127   h3  n/a   ELOISE
27 Sep 1975   104   h2  n/a   FAYE
 2 Oct 1975   138   h4  n/a   GLADYS
27 Oct 1975    52   ts  n/a   HALLIE
10 Dec 1975    69   ts  n/a   UNNAMED
24 May 1976    52   ts  n/a   UNNAMED
 2 Aug 1976    52   ts  n/a   ANNA
 9 Aug 1976   121   h3  n/a   BELLE
20 Aug 1976    52   ts  n/a   DOTTIE
22 Aug 1976    92   h1  n/a   CANDICE
29 Aug 1976   104   h2  n/a   EMMY
 1 Sep 1976   115   h3  n/a   FRANCES
15 Sep 1976    46   ts  n/a   UNNAMED
30 Sep 1976   104   h2  n/a   GLORIA
24 Oct 1976    75   h1  n/a   HOLLY
 2 Sep 1977   173   h5  n/a   ANITA
 5 Sep 1977    75   h1  n/a   BABE
 8 Sep 1977    75   h1  n/a   CLARA
29 Sep 1977    86   h1  n/a   DOROTHY
15 Oct 1977    81   h1  n/a   EVELYN
18 Oct 1977    58   ts  n/a   FRIEDA
20 Jan 1978    46   ts  n/a   UNNAMED
31 Jul 1978    52   ts  n/a   AMELIA
 7 Aug 1978    52   ts  n/a   BESS
 9 Aug 1978    92   h1  n/a   CORA
29 Aug 1978    58   ts  n/a   DEBRA
 4 Sep 1978   138   h4  n/a   ELLA
13 Sep 1978    98   h2  n/a   FLOSSIE
18 Sep 1978    63   ts  n/a   HOPE
18 Sep 1978   132   h4  n/a   GRETA
 4 Oct 1978    52   ts  n/a   IRMA
 9 Oct 1978    52   ts  n/a   JULIET
30 Oct 1978    81   h1  n/a   KENDRA
22 Jun 1979    58   ts  n/a   ANA
11 Jul 1979    75   h1  n/a   BOB
24 Jul 1979    52   ts  n/a   CLAUDETTE
30 Aug 1979   173   h5  n/a   DAVID
12 Sep 1979   132   h4  n/a   FREDERIC
30 Aug 1979    40   ts  n/a   ELENA
12 Sep 1979    98   h2  n/a   GLORIA
17 Sep 1979    86   h1  n/a   HENRI
24 Oct 1979    75   h1  n/a   UNNAMED
 7 Aug 1980   190   h5  n/a   ALLEN
16 Aug 1980    98   h2  n/a   BONNIE
23 Aug 1980    81   h1  n/a   CHARLEY
 8 Sep 1980    81   h1  n/a   GEORGES
 8 Sep 1980    75   h1  n/a   EARL
 5 Sep 1980    58   ts  n/a   DANIELLE
 9 Sep 1980   115   h3  n/a   FRANCES
22 Sep 1980    69   ts  n/a   HERMINE
 6 Oct 1980   104   h2  n/a   IVAN
12 Nov 1980    98   h2  n/a   JEANNE
26 Nov 1980    86   h1  n/a   KARL
 8 May 1981    58   ts  n/a   ARLENE
30 Jun 1981    69   ts  n/a   BRET
 4 Aug 1981    58   ts  n/a   CINDY
21 Aug 1981    81   h1  n/a   DENNIS
 5 Sep 1981    92   h1  n/a   EMILY
 7 Sep 1981   115   h3  n/a   FLOYD
11 Sep 1981   104   h2  n/a   GERT
15 Sep 1981   132   h4  n/a   HARVEY
28 Sep 1981   121   h3  n/a   IRENE
31 Oct 1981    52   ts  n/a   JOSE
 5 Nov 1981    86   h1  n/a   KATRINA
14 Nov 1981    69   ts  n/a   UNNAMED
 3 Jun 1982    86   h1  n/a   ALBERTO
18 Jun 1982    69   ts  n/a   UNNAMED
31 Aug 1982    69   ts  n/a   BERYL
11 Sep 1982    63   ts  n/a   CHRIS
18 Sep 1982   132   h4  n/a   DEBBY
 2 Oct 1982    69   ts  n/a   ERNESTO
18 Aug 1983   115   h3  n/a   ALICIA
28 Aug 1983    81   h1  n/a   BARRY
11 Sep 1983    75   h1  n/a   CHANTAL
29 Sep 1983    63   ts  n/a   DEAN
20 Aug 1984    58   ts  n/a   UNNAMED
29 Aug 1984    52   ts  n/a   ARTHUR
31 Aug 1984    40   ts  n/a   BERTHA
 2 Sep 1984    58   ts  n/a   CESAR
12 Sep 1984   132   h4  n/a   DIANA
15 Sep 1984    63   ts  n/a   EDOUARD
17 Sep 1984    63   ts  n/a   FRAN
18 Sep 1984    52   ts  n/a   GUSTAV
25 Sep 1984    75   h1  n/a   HORTENSE
27 Sep 1984    58   ts  n/a   ISIDORE
12 Oct 1984   104   h2  n/a   JOSEPHINE
 8 Nov 1984    92   h1  n/a   KLAUS
20 Dec 1984    81   h1  n/a   LILI
19 Jul 1985    69   ts  n/a   ANA
24 Jul 1985    75   h1  n/a   BOB
15 Aug 1985    86   h1  n/a   CLAUDETTE
15 Aug 1985    92   h1  n/a   DANNY
 1 Sep 1985   127   h3  n/a   ELENA
17 Sep 1985    63   ts  n/a   FABIAN
25 Sep 1985   144   h4  n/a   GLORIA
23 Sep 1985    58   ts  n/a   HENRI
 8 Oct 1985    69   ts  n/a   ISABEL
28 Oct 1985    86   h1  n/a   JUAN
20 Nov 1985   121   h3  n/a   KATE
 6 Jun 1986    52   ts  n/a   ANDREW
26 Jun 1986    86   h1  n/a   BONNIE
18 Aug 1986    81   h1  n/a   CHARLEY
 8 Sep 1986    58   ts  n/a   DANIELLE
12 Sep 1986   104   h2  n/a   EARL
20 Nov 1986    86   h1  n/a   FRANCES
10 Aug 1987    46   ts  n/a   UNNAMED
22 Aug 1987    75   h1  n/a   ARLENE
20 Aug 1987    52   ts  n/a   BRET
 8 Sep 1987    52   ts  n/a   CINDY
11 Sep 1987    52   ts  n/a   DENNIS
22 Sep 1987   127   h3  n/a   EMILY
12 Oct 1987    75   h1  n/a   FLOYD
 7 Aug 1988    40   ts  n/a   ALBERTO
 9 Aug 1988    52   ts  n/a   BERYL
28 Aug 1988    52   ts  n/a   CHRIS
 2 Sep 1988    75   h1  n/a   DEBBY
 5 Sep 1988    63   ts  n/a   ERNESTO
 8 Sep 1988    58   ts  n/a   UNNAMED
 9 Sep 1988    81   h1  n/a   FLORENCE
14 Sep 1988   184   h5  n/a   GILBERT
23 Sep 1988   144   h4  n/a   HELENE
 1 Oct 1988    46   ts  n/a   ISAAC
22 Oct 1988   144   h4  n/a   JOAN
26 Nov 1988    75   h1  n/a   KEITH
26 Jun 1989    52   ts  n/a   ALLISON
12 Jul 1989    52   ts  n/a   BARRY
 1 Aug 1989    81   h1  n/a   CHANTAL
 7 Aug 1989   104   h2  n/a   DEAN
24 Aug 1989   104   h2  n/a   ERIN
 5 Sep 1989    86   h1  n/a   FELIX
 5 Sep 1989   144   h4  n/a   GABRIELLE
15 Sep 1989   161   h5  n/a   HUGO
19 Sep 1989    69   ts  n/a   IRIS
16 Oct 1989    86   h1  n/a   JERRY
30 Nov 1989    58   ts  n/a   KAREN
25 Jul 1990    69   ts  n/a   ARTHUR
31 Jul 1990    81   h1  n/a   BERTHA
 2 Aug 1990    52   ts  n/a   CESAR
 3 Aug 1990    46   ts  n/a   EDOUARD
 7 Aug 1990    98   h2  n/a   DIANA
13 Aug 1990    40   ts  n/a   FRAN
31 Aug 1990   121   h3  n/a   GUSTAV
28 Aug 1990    63   ts  n/a   HORTENSE
 7 Sep 1990    98   h2  n/a   ISIDORE
 5 Oct 1990    86   h1  n/a   JOSEPHINE
 5 Oct 1990    81   h1  n/a   KLAUS
11 Oct 1990    75   h1  n/a   LILI
11 Oct 1990    63   ts  n/a   MARCO
18 Oct 1990    86   h1  n/a   NANA
 4 Jul 1991    52   ts  n/a   ANA
19 Aug 1991   115   h3  n/a   BOB
 7 Sep 1991   132   h4  n/a   CLAUDETTE
 9 Sep 1991    52   ts  n/a   DANNY
10 Sep 1991    58   ts  n/a   ERIKA
15 Oct 1991    46   ts  n/a   FABIAN
29 Oct 1991   104   h2  n/a   GRACE
 1 Nov 1991    75   h1  n/a   UNNAMED
22 Apr 1992    52   ts  n/a   UNNAMED
23 Aug 1992   173   h5  n/a   ANDREW
21 Sep 1992   109   h2  n/a   BONNIE
24 Sep 1992   109   h2  n/a   CHARLEY
25 Sep 1992    63   ts  n/a   DANIELLE
 1 Oct 1992    63   ts  n/a   EARL
24 Oct 1992    86   h1  n/a   FRANCES
 2 Jun 1993    40   ts  n/a   UNNAMED
19 Jun 1993    40   ts  n/a   ARLENE
 6 Aug 1993    58   ts  n/a   BRET
16 Aug 1993    46   ts  n/a   CINDY
31 Aug 1993   115   h3  n/a   EMILY
25 Aug 1993    52   ts  n/a   DENNIS
12 Sep 1993    81   h1  n/a   FLOYD
20 Sep 1993    98   h2  n/a   GERT
20 Sep 1993    75   h1  n/a   HARVEY
 3 Jul 1994    63   ts  n/a   ALBERTO
16 Aug 1994    58   ts  n/a   BERYL
19 Aug 1994    81   h1  n/a   CHRIS
10 Sep 1994    69   ts  n/a   DEBBY
23 Sep 1994    58   ts  n/a   ERNESTO
 8 Nov 1994   109   h2  n/a   FLORENCE
18 Nov 1994    86   h1  n/a   GORDON
 4 Jun 1995    75   h1  n/a   ALLISON
 7 Jul 1995    69   ts  n/a   BARRY
17 Jul 1995    69   ts  n/a   CHANTAL
31 Jul 1995    46   ts  n/a   DEAN
 3 Aug 1995    98   h2  n/a   ERIN
12 Aug 1995   138   h4  n/a   FELIX
11 Aug 1995    69   ts  n/a   GABRIELLE
24 Aug 1995   109   h2  n/a   HUMBERTO
 1 Sep 1995   109   h2  n/a   IRIS
23 Aug 1995    40   ts  n/a   JERRY
28 Aug 1995    52   ts  n/a   KAREN
 3 Sep 1995   138   h4  n/a   LUIS
16 Sep 1995   115   h3  n/a   MARILYN
28 Sep 1995    75   h1  n/a   NOEL
 4 Oct 1995   150   h4  n/a   OPAL
 6 Oct 1995    58   ts  n/a   PABLO
10 Oct 1995   115   h3  n/a   ROXANNE
22 Oct 1995    63   ts  n/a   SEBASTIEN
30 Oct 1995    86   h1  n/a   TANYA
21 Jun 1996    52   ts  n/a   ARTHUR
 9 Jul 1996   115   h3  n/a   BERTHA
28 Jul 1996    86   h1  n/a   CESAR
23 Aug 1996    81   h1  n/a   DOLLY
25 Aug 1996   144   h4  n/a   EDOUARD
 4 Sep 1996   121   h3  n/a   FRAN
29 Aug 1996    46   ts  n/a   GUSTAV
13 Sep 1996   138   h4  n/a   HORTENSE
28 Sep 1996   115   h3  n/a   ISIDORE
 7 Oct 1996    69   ts  n/a   JOSEPHINE
11 Oct 1996    52   ts  n/a   KYLE
19 Oct 1996   115   h3  n/a   LILI
20 Nov 1996    75   h1  n/a   MARCO
 1 Jun 1997    52   ts  n/a   UNNAMED
 1 Jul 1997    46   ts  n/a   ANA
12 Jul 1997    75   h1  n/a   BILL
13 Jul 1997    46   ts  n/a   CLAUDETTE
18 Jul 1997    81   h1  n/a   DANNY
 8 Sep 1997   127   h3  n/a   ERIKA
 8 Oct 1997    46   ts  n/a   FABIAN
15 Oct 1997    46   ts  n/a   GRACE
30 Jul 1998    52   ts  n/a   ALEX
23 Aug 1998   115   h3  n/a   BONNIE
22 Aug 1998    69   ts  n/a   CHARLEY
26 Aug 1998   104   h2  n/a   DANIELLE
 2 Sep 1998    98   h2  n/a   EARL
11 Sep 1998    63   ts  n/a   FRANCES
20 Sep 1998   155   h4  n/a   GEORGES
19 Sep 1998    46   ts  n/a   HERMINE
26 Sep 1998    92   h1  n/a   IVAN
24 Sep 1998   104   h2  n/a   JEANNE
27 Sep 1998   104   h2  n/a   KARL
 9 Oct 1998    75   h1  n/a   LISA
26 Oct 1998   178   h5  n/a   MITCH
 1 Dec 1998    86   h1  n/a   NICOLE
13 Jun 1999    58   ts  n/a   ARLENE
22 Aug 1999   144   h4  n/a   BRET
28 Aug 1999   138   h4  n/a   CINDY
28 Aug 1999   104   h2  n/a   DENNIS
24 Aug 1999    52   ts  n/a   EMILY
13 Sep 1999   155   h4  n/a   FLOYD
16 Sep 1999   150   h4  n/a   GERT
20 Sep 1999    58   ts  n/a   HARVEY
18 Oct 1999   109   h2  n/a   IRENE
20 Oct 1999    98   h2  n/a   JOSE
29 Oct 1999    40   ts  n/a   KATRINA
17 Nov 1999   155   h4  n/a   LENNY
12 Aug 2000   127   h3  n/a   ALBERTO
14 Aug 2000    52   ts  n/a   BERYL
18 Aug 2000    40   ts  n/a   CHRIS
21 Aug 2000    86   h1  n/a   DEBBY
 2 Sep 2000    40   ts  n/a   ERNESTO
16 Sep 2000    81   h1  n/a   FLORENCE
17 Sep 2000    81   h1  n/a   GORDON
21 Sep 2000    69   ts  n/a   HELENE
28 Sep 2000   138   h4  n/a   ISAAC
28 Sep 2000    92   h1  n/a   JOYCE
 1 Oct 2000   138   h4  n/a   KEITH
10 Oct 2000    69   ts  n/a   LESLIE
19 Oct 2000    98   h2  n/a   MICHAEL
21 Oct 2000    58   ts  n/a   NADINE
28 Oct 2000    63   ts  n/a   UNNAMED
 5 Jun 2001    58   ts  n/a   ALLISON
 5 Aug 2001    69   ts  n/a   BARRY
19 Aug 2001    69   ts  n/a   CHANTAL
27 Aug 2001    69   ts  n/a   DEAN
 9 Sep 2001   121   h3  n/a   ERIN
14 Sep 2001   115   h3  n/a   FELIX
17 Sep 2001    81   h1  n/a   GABRIELLE
26 Sep 2001   104   h2  n/a   HUMBERTO
 9 Oct 2001   144   h4  n/a   IRIS
 7 Oct 2001    52   ts  n/a   JERRY
14 Oct 2001    81   h1  n/a   KAREN
30 Oct 2001    40   ts  n/a   LORENZO
 4 Nov 2001   138   h4  n/a   MICHELLE
 5 Nov 2001    75   h1  n/a   NOEL
27 Nov 2001    92   h1  n/a   OLGA
16 Jul 2002    58   ts  n/a   ARTHUR
 5 Aug 2002    40   ts  n/a   BERTHA
 8 Aug 2002    52   ts  n/a   CRISTOBAL
30 Aug 2002    58   ts  n/a   DOLLY
 3 Sep 2002    63   ts  n/a   EDOUARD
 6 Sep 2002    58   ts  n/a   FAY
11 Sep 2002    98   h2  n/a   GUSTAV
14 Sep 2002    58   ts  n/a   HANNA
21 Sep 2002   127   h3  n/a   ISIDORE
19 Sep 2002    58   ts  n/a   JOSEPHINE
26 Sep 2002    86   h1  n/a   KYLE
 2 Oct 2002   144   h4  n/a   LILI
21 Apr 2003    58   ts  n/a   ANA
30 Jun 2003    58   ts  n/a   BILL
15 Jul 2003    92   h1  n/a   CLAUDETTE
18 Jul 2003    75   h1  n/a   DANNY
16 Aug 2003    75   h1  n/a   ERIKA
 1 Sep 2003   144   h4  n/a   FABIAN
30 Aug 2003    40   ts  n/a   GRACE
 5 Sep 2003    58   ts  n/a   HENRI
11 Sep 2003   167   h5  n/a   ISABEL
27 Sep 2003   104   h2  n/a   JUAN
 4 Oct 2003   127   h3  n/a   KATE
 3 Oct 2003    63   ts  n/a   LARRY
10 Oct 2003    46   ts  n/a   MINDY
17 Oct 2003    69   ts  n/a   NICHOLAS
 6 Dec 2003    63   ts  n/a   ODETTE
 9 Dec 2003    69   ts  n/a   PETER
 5 Aug 2004   121   h3  n/a   ALEX
11 Aug 2004    63   ts  n/a   BONNIE
13 Aug 2004   150   h4  n/a   CHARLEY
16 Aug 2004   109   h2  n/a   DANIELLE
15 Aug 2004    52   ts  n/a   EARL
31 Aug 2004   144   h4  n/a   FRANCES
29 Aug 2004    75   h1  n/a   GASTON
30 Aug 2004    58   ts  n/a   HERMINE
11 Sep 2004   167   h5  n/a   IVAN
25 Sep 2004   121   h3  n/a   JEANNE
21 Sep 2004   144   h4  n/a   KARL
 2 Oct 2004    75   h1  n/a   LISA
 9 Oct 2004    46   ts  n/a   MATTHEW
11 Oct 2004    52   ts  n/a   NICOLE
29 Nov 2004    52   ts  n/a   OTTO
11 Jun 2005    69   ts  n/a   ARLENE
28 Jun 2005    40   ts  n/a   BRET
 6 Jul 2005    75   h1  n/a   CINDY
 8 Jul 2005   150   h4  n/a   DENNIS
17 Jul 2005   161   h5  n/a   EMILY
23 Jul 2005    69   ts  n/a   FRANKLIN
25 Jul 2005    46   ts  n/a   GERT
 4 Aug 2005    63   ts  n/a   HARVEY
16 Aug 2005   104   h2  n/a   IRENE
23 Aug 2005    58   ts  n/a   JOSE
28 Aug 2005   173   h5  n/a   KATRINA
31 Aug 2005    40   ts  n/a   LEE
 6 Sep 2005   115   h3  n/a   MARIA
 9 Sep 2005    92   h1  n/a   NATE
11 Sep 2005    86   h1  n/a   OPHELIA
20 Sep 2005    81   h1  n/a   PHILIPPE
22 Sep 2005   178   h5  n/a   RITA
 4 Oct 2005    81   h1  n/a   STAN
 4 Oct 2005    52   ts  n/a   UNNAMED
 5 Oct 2005    52   ts  n/a   TAMMY
12 Oct 2005    46   ts  n/a   TWENTY-TWO
 9 Oct 2005    75   h1  n/a   VINCE
19 Oct 2005   184   h5  n/a   WILMA
23 Oct 2005    52   ts  n/a   ALPHA
30 Oct 2005   115   h3  n/a   BETA
19 Nov 2005    52   ts  n/a   GAMMA
24 Nov 2005    69   ts  n/a   DELTA
 5 Dec 2005    86   h1  n/a   EPSILON
 1 Jan 2006    63   ts  n/a   ZETA
12 Jun 2006    69   ts  n/a   ALBERTO
17 Jul 2006    52   ts  n/a   UNNAMED
19 Jul 2006    58   ts  n/a   BERYL
 2 Aug 2006    63   ts  n/a   CHRIS
23 Aug 2006    52   ts  n/a   DEBBY
27 Aug 2006    75   h1  n/a   ERNESTO
10 Sep 2006    92   h1  n/a   FLORENCE
14 Sep 2006   121   h3  n/a   GORDON
18 Sep 2006   121   h3  n/a   HELENE
 1 Oct 2006    86   h1  n/a   ISAAC
 7 May 2007    75   h1  n/a   ANDREA
 2 Jun 2007    58   ts  n/a   BARRY
 1 Aug 2007    69   ts  n/a   CHANTAL
21 Aug 2007   173   h5  n/a   DEAN
19 Aug 2007    58   ts  n/a   ERIN
 3 Sep 2007   173   h5  n/a   FELIX
 9 Sep 2007    58   ts  n/a   GABRIELLE
14 Sep 2007    46   ts  n/a   INGRID
13 Sep 2007    92   h1  n/a   HUMBERTO
23 Sep 2007    40   ts  n/a   JERRY
26 Sep 2007    75   h1  n/a   KAREN
28 Sep 2007    81   h1  n/a   LORENZO
29 Sep 2007    40   ts  n/a   MELISSA
17 Oct 2007    52   ts  n/a   FIFTEEN
 3 Nov 2007    86   h1  n/a   NOEL
11 Dec 2007    58   ts  n/a   OLGA
31 May 2008    46   ts  n/a   ARTHUR
 7 Jul 2008   127   h3  n/a   BERTHA
21 Jul 2008    63   ts  n/a   CRISTOBAL
23 Jul 2008    98   h2  n/a   DOLLY
 5 Aug 2008    63   ts  n/a   EDOUARD
19 Aug 2008    69   ts  n/a   FAY
30 Aug 2008   155   h4  n/a   GUSTAV
 2 Sep 2008    86   h1  n/a   HANNA
 4 Sep 2008   144   h4  n/a   IKE
 3 Sep 2008    63   ts  n/a   JOSEPHINE
28 Sep 2008    86   h1  n/a   KYLE
27 Sep 2008    81   h1  n/a   LAURA
 7 Oct 2008    63   ts  n/a   MARCO
12 Oct 2008    40   ts  n/a   NANA
16 Oct 2008   132   h4  n/a   OMAR
 8 Nov 2008   144   h4  n/a   PALOMA
12 Aug 2009    40   ts  n/a   ANA
19 Aug 2009   132   h4  n/a   BILL
16 Aug 2009    58   ts  n/a   CLAUDETTE
27 Aug 2009    58   ts  n/a   DANNY
 1 Sep 2009    52   ts  n/a   ERIKA
 9 Sep 2009   121   h3  n/a   FRED
27 Sep 2009    63   ts  n/a   GRACE
 7 Oct 2009    52   ts  n/a   HENRI
 9 Nov 2009   104   h2  n/a   IDA
 1 Jul 2010   109   h2  n/a   ALEX
23 Jul 2010    46   ts  n/a   BONNIE
 5 Aug 2010    58   ts  n/a   COLIN
27 Aug 2010   132   h4  n/a   DANIELLE
 2 Sep 2010   144   h4  n/a   EARL
 1 Sep 2010    63   ts  n/a   FIONA
 1 Sep 2010    40   ts  n/a   GASTON
 7 Sep 2010    69   ts  n/a   HERMINE
15 Sep 2010   155   h4  n/a   IGOR
15 Sep 2010   138   h4  n/a   JULIA
17 Sep 2010   127   h3  n/a   KARL
25 Sep 2010    86   h1  n/a   LISA
24 Sep 2010    58   ts  n/a   MATTHEW
28 Sep 2010    46   ts  n/a   NICOLE
 9 Oct 2010    86   h1  n/a   OTTO
12 Oct 2010   104   h2  n/a   PAULA
25 Oct 2010    98   h2  n/a   RICHARD
30 Oct 2010    75   h1  n/a   SHARY
30 Oct 2010    98   h2  n/a   TOMAS
30 Jun 2011    63   ts  n/a   ARLENE
18 Jul 2011    69   ts  n/a   BRET
21 Jul 2011    69   ts  n/a   CINDY
29 Jul 2011    52   ts  n/a   DON
 3 Aug 2011    52   ts  n/a   EMILY
13 Aug 2011    46   ts  n/a   FRANKLIN
15 Aug 2011    63   ts  n/a   GERT
20 Aug 2011    63   ts  n/a   HARVEY
24 Aug 2011   121   h3  n/a   IRENE
28 Aug 2011    46   ts  n/a   JOSE
 6 Sep 2011   138   h4  n/a   KATIA
 1 Sep 2011    46   ts  n/a   UNNAMED
 3 Sep 2011    58   ts  n/a   LEE
16 Sep 2011    81   h1  n/a   MARIA
 8 Sep 2011    75   h1  n/a   NATE
 2 Oct 2011   138   h4  n/a   OPHELIA
 6 Oct 2011    92   h1  n/a   PHILIPPE
25 Oct 2011   115   h3  n/a   RINA
 9 Nov 2011    63   ts  n/a   SEAN
20 May 2012    58   ts  n/a   ALBERTO
27 May 2012    69   ts  n/a   BERYL
21 Jun 2012    86   h1  n/a   CHRIS
24 Jun 2012    63   ts  n/a   DEBBY
 8 Aug 2012    98   h2  n/a   ERNESTO
 5 Aug 2012    58   ts  n/a   FLORENCE
17 Aug 2012    46   ts  n/a   HELENE
19 Aug 2012   109   h2  n/a   GORDON
28 Aug 2012    81   h1  n/a   ISAAC
23 Aug 2012    40   ts  n/a   JOYCE
31 Aug 2012   104   h2  n/a   KIRK
 5 Sep 2012    81   h1  n/a   LESLIE
 6 Sep 2012   115   h3  n/a   MICHAEL
30 Sep 2012    92   h1  n/a   NADINE
 4 Oct 2012    52   ts  n/a   OSCAR
12 Oct 2012    46   ts  n/a   PATTY
16 Oct 2012    92   h1  n/a   RAFAEL
25 Oct 2012   115   h3  n/a   SANDY
24 Oct 2012    52   ts  n/a   TONY
 6 Jun 2013    63   ts  n/a   ANDREA
19 Jun 2013    46   ts  n/a   BARRY
 9 Jul 2013    63   ts  n/a   CHANTAL
25 Jul 2013    58   ts  n/a   DORIAN
17 Aug 2013    46   ts  n/a   ERIN
26 Aug 2013    58   ts  n/a   FERNAND
10 Sep 2013    63   ts  n/a   GABRIELLE
11 Sep 2013    92   h1  n/a   HUMBERTO
15 Sep 2013    86   h1  n/a   INGRID
 1 Oct 2013    52   ts  n/a   JERRY
 3 Oct 2013    63   ts  n/a   KAREN
22 Oct 2013    52   ts  n/a   LORENZO
19 Nov 2013    63   ts  n/a   MELISSA
 4 Dec 2013    63   ts  n/a   UNNAMED
 4 Jul 2014    98   h2  n/a   ARTHUR
 4 Aug 2014    81   h1  n/a   BERTHA
28 Aug 2014    86   h1  n/a   CRISTOBAL
 2 Sep 2014    52   ts  n/a   DOLLY
16 Sep 2014   121   h3  n/a   EDOUARD
12 Oct 2014    81   h1  n/a   FAY
16 Oct 2014   144   h4  n/a   GONZALO
27 Oct 2014    40   ts  n/a   HANNA
 9 May 2015    58   ts  n/a   ANA
16 Jun 2015    58   ts  n/a   BILL
13 Jul 2015    52   ts  n/a   CLAUDETTE
21 Aug 2015   127   h3  n/a   DANNY
27 Aug 2015    52   ts  n/a   ERIKA
31 Aug 2015    86   h1  n/a   FRED
 6 Sep 2015    58   ts  n/a   GRACE
 9 Sep 2015    52   ts  n/a   HENRI
21 Sep 2015    52   ts  n/a   IDA
 3 Oct 2015   155   h4  n/a   JOAQUIN
11 Nov 2015    86   h1  n/a   KATE
14 Jan 2016    86   h1  n/a   ALEX
28 May 2016    46   ts  n/a   BONNIE
 7 Jun 2016    58   ts  n/a   COLIN
20 Jun 2016    46   ts  n/a   DANIELLE
 4 Aug 2016    86   h1  n/a   EARL
19 Aug 2016    52   ts  n/a   FIONA
29 Aug 2016   121   h3  n/a   GASTON
 2 Sep 2016    81   h1  n/a   HERMINE
16 Sep 2016    63   ts  n/a   IAN
13 Sep 2016    52   ts  n/a   JULIA
25 Sep 2016    69   ts  n/a   KARL
21 Sep 2016    52   ts  n/a   LISA
 1 Oct 2016   167   h5  n/a   MATTHEW
13 Oct 2016   138   h4  n/a   NICOLE
24 Nov 2016   115   h3  n/a   OTTO
16 Apr 2017    63   ts  n/a   ARLENE
20 Jun 2017    52   ts  n/a   BRET
21 Jun 2017    58   ts  n/a   CINDY
18 Jul 2017    52   ts  n/a   DON
31 Jul 2017    58   ts  n/a   EMILY
10 Aug 2017    86   h1  n/a   FRANKLIN
16 Aug 2017   109   h2  n/a   GERT
26 Aug 2017   132   h4  n/a   HARVEY
 5 Sep 2017   178   h5  n/a   IRMA
 8 Sep 2017   155   h4  n/a   JOSE
 8 Sep 2017   104   h2  n/a   KATIA
27 Sep 2017   115   h3  n/a   LEE
20 Sep 2017   173   h5  n/a   MARIA
 7 Oct 2017    92   h1  n/a   NATE
14 Oct 2017   115   h3  n/a   OPHELIA
28 Oct 2017    40   ts  n/a   PHILIPPE
 8 Nov 2017    58   ts  n/a   RINA
28 May 2018    63   ts  n/a   ALBERTO
 6 Jul 2018    81   h1  n/a   BERYL
11 Jul 2018   104   h2  n/a   CHRIS
 9 Aug 2018    52   ts  n/a   DEBBY
16 Aug 2018    46   ts  n/a   ERNESTO
11 Sep 2018   150   h4  n/a   FLORENCE
 4 Sep 2018    69   ts  n/a   GORDON
11 Sep 2018   109   h2  n/a   HELENE
10 Sep 2018    75   h1  n/a   ISAAC
12 Sep 2018    52   ts  n/a   JOYCE
26 Sep 2018    63   ts  n/a   KIRK
12 Oct 2018    92   h1  n/a   LESLIE
10 Oct 2018   161   h5  n/a   MICHAEL
10 Oct 2018    63   ts  n/a   NADINE
30 Oct 2018   109   h2  n/a   OSCAR
20 May 2019    40   ts  n/a   ANDREA
13 Jul 2019    75   h1  n/a   BARRY
21 Aug 2019    40   ts  n/a   CHANTAL
 1 Sep 2019   184   h5  n/a   DORIAN
27 Aug 2019    40   ts  n/a   ERIN
 4 Sep 2019    52   ts  n/a   FERNAND
 8 Sep 2019    63   ts  n/a   GABRIELLE
18 Sep 2019   127   h3  n/a   HUMBERTO
20 Sep 2019   104   h2  n/a   JERRY
17 Sep 2019    46   ts  n/a   IMELDA
24 Sep 2019    46   ts  n/a   KAREN
29 Sep 2019   161   h5  n/a   LORENZO
10 Oct 2019    63   ts  n/a   MELISSA
18 Oct 2019    58   ts  n/a   NESTOR
26 Oct 2019    52   ts  n/a   OLGA
27 Oct 2019    81   h1  n/a   PABLO
28 Oct 2019    81   h1  n/a   REBEKAH
23 Nov 2019    69   ts  n/a   SEBASTIEN

Atlantic Region: all dec peak 5yr rank
Copyright © 2020 Caribbean Hurricane Network. All Rights Reserved