Earlier this mornign I wrote this but the internet died before I could get it out:
It's 633am and the neighbor has his jerk-hammer going again. His crew spends all day running a rusty concrete mixer that is in desperate need of oiling, then the next day the owner uses his jerk-hammer to undo what they did. He typically starts his jerk-hammer at 630 or 700am and runs it until 830am. This gives him plenty of time to wake up and irritate the entire neighborhood.
Tortola: Where people do as they please! We'll all be glad when this forever house gets built, but why on earth it takes so much jerk-hammering on a NEW house, just boggles my sleepy brain. But reading plans to build, was never a priority in the islands.

Recently one of his crew left concrete in the hand mixer and it solidified. This is a no-no. Now they can't make anymore concrete until they get the old stuff out.
SO for several days now, someone shows up and bangs on the concrete mixer with a pathetic little hammer. All this does is make a very LOUD sound and dents up the outside of the concrete mixer and does NOTHING to dislodge the concrete inside.
I don't want to work
I want to bang on the drum all day
I don't want to play
I just want to bang on the drum all day
Ever since I was a tiny boy
I don't want no candy
I don't want no toy
I took a stick and an old coffee can
I bang on that thing 'til I got
Blisters on my hand
Because...
When I get older they think I'm a fool
The teacher told me I should stay after school
She caught me pounding on the desk with ny hands
But my licks were so hot
I made the teacher want to dance
And that's why...
Listen to this
Every day when I get home from work
I feel so frustrated
the boss is a jerk
And I get my sticks and go out to the shed
And I pound on that drum like it was the boss's head
Because..
I can bang on that drum
Hey, you want to bang at it?
I can do this all day!

For hours this guy below bangs away. I wonder how much they pay him to bang on the drum all day.
He isn't the least bit rhythmic. He bangs erratically for awhile, spreading out his dents, then he takes a food break. From what I can tell, he works an hour, then eats breakfast. Then he bangs another hour and then sits down to eat a snack.
After another hearty hour of banging unrhythmically on his concrete drum, he takes a nap. Then he wakes up and bangs some more before he takes a lunch break.
After lunch he takes another nap, then bangs on his drum some more, then takes a snack break. After that he bangs on it (not a single chunk of concrete has yet to break lose from all this fruitless banging, but the mixer sure is beat up looking by now!) but he bags away some more.
Now he takes a beer break. Yacks with the other crew about how tough his job is, then he gives it a few more bangs and goes home.
After about four days of this banging on the drum all day, SOMEBODY noticed the concrete mixer was still full of concrete. Now they have been jerk-hammering at it for a few days. This is a tiny concrete drum, not the truck type! But it make take until next year to get that mess out of there.
I love it here. I must be crazy. When I first came here. My new found friend, a transplant from down island, said "You must be crazy to live here."
I smiled.
He said "If you ain't crazy, then you will be, if you stay here."
I smiled.
He said "Dems dat not crazy, dey leave here, cause dey say it make dem crazy if dey stay here. So all we gots now is crazy people living on Tortola."
I explaiend to him how I had been sailing the high seas in between taking breaks on St John.
He looked at me and said "Oh den you already crazy. You be fine here, mon. "
Yeah, I listened to him, but since I was quietly escapting from the world's largest oepn air insane asylum (St John) I wasn't intimidated. Some days me thinks Tortola is a few clowns short of a circus.
***********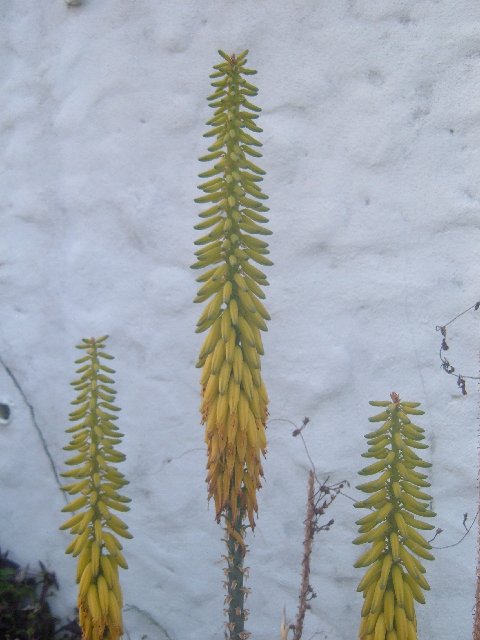 Aloe Flowers in Bloom