Upstart Olga aims for Belize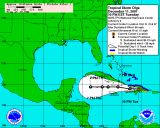 The hurricane season is finished – but try telling that to Olga, Tropical Storm Olga, that is.Tonight she's sitting on the Dominican Republic and the forecasts say she's coming our way.

Now, in the recorded history of storms, there have been 16 named December storms – 7 of those have happened since 1995.
And you can blame climate change, but while you're pointing fingers, Olga is looking to bear down on Belize.

We visited the met office today to find out more about upstart Olga.


Ramon Frutos, Chief Meteorologist
"We closed hurricane season officially on the 30th. of November, and, by and large, we thought it was all over. "
Jules Vasquez, Reporting
But it's not. This is Olga churning off the coast of Hispaniola, and the projections shows she's heading for Belize
Ramon Frutos, Chief Meteorologist
"We expect Olga to continue on a westerly track, for the next 24 to 36 hours, however, the projections are indicating that Olga will be downgraded or it will weaken to a depression as it moves into the western Caribbean."

"Come Friday morning, Olga will have already moved into our preliminary phase region, but by then it would have already weakened to a tropical depression."
Of course, that is only the projection, and as Belizeans who just endured a topsy turvy hurricane season know all too well: What the forecasters predict is not always what happens.
Ramon Frutos, Chief Meteorologist
"It's very unlikely that it could reach hurricane force strength or hurricane intensity, because conditions are not very, very favorable for it to intensify into a hurricane."
"The worst case scenario would be that Olga maintains its tropical storm characteristic with winds greater than 39 miles per hour - because right now the winds are 45 miles per hour - and move into the Caribbean towards the coast of Belize as a tropical storm."
"The best case scenario would be that Olga is downgraded or weakens into a depression and the winds would die away, it would begin to fizzle out and only produce limited rainfall over the coast of Belize"

So if you're keeping track at home, the best advice is to be vigilant but don't start putting back up those shutters just yet
Ramon Frutos, Chief Meteorologist
"My advice to all Belizeans is just to continue to monitor this system very closely, and we here at the weather bureau will continue to provide you with timely reports on the evolution of this system as it approaches the western Caribbean."
Olga is only the 4th. December storm to hit land.

Eight December storms have been hurricanes – only one hit land –
that was a category two in 1925 which hit the United States.