FROM THE GLEANER FRI NOV 24
Heavy rains lashed parishes across the island yesterday, resulting in flooding, and scores of persons trapped in their business places and homes.
The Office of Disaster Preparedness and Emergency Management (ODPEM) reported flooding in the parishes of St. Ann, St. Mary and Portland.
Mayor of Port Maria, Bobby Montague, said yesterday that the entire town of Port Maria was under water and persons were marooned inside their business places.
Speaking yesterday on 'Good Evening Jamaica', on Power 106 radio, Mayor Montague said members of the Jamaica Defence Force and the Fire Brigade were mobilised and were evacuating persons who were stranded.
He also noted that the police were trying to assist but they too were marooned.
"The police station is flooded and the water is rising in the admin. office, where they are," the mayor said.
Port Maria under water
He explained that Port Maria, the parish capital was below sea level and as a result, everywhere was flooded.
In Portland, more than 200 residents had evacuated their homes up to press time. The trend is expected to continue into today as residents remain fearful that conditions could worsen.
Paradise Estate was also inundated and approximately 10 persons were trapped. The Fire Brigade responded and assisted them.
Jamaica Labour Party caretaker for Western Portland, Daryl Vaz, argued that a lack of drain cleaning and river training had contributed to flooding in the various communities.
Glenroy Brown, duty forecaster at the Meteorological Service told The Gleaner yesterday that a flash flood warning was still in effect for low lying and flood prone areas of all parishes.
According to the Meteorological Service, the frontal system, which has been affecting the island has become stationary across Jamaica. However, it is expected to drift towards the west tomorrow into Saturday.
And Krechet Greaves, of the information and training unit at ODPEM said persons in low-lying areas are to take the necessary precautions in the event of flooding and parents and teachers are to remind children of the dangers of playing in flood waters or trying to cross pathways that are inundated.
Persons who live in areas where flooding has occurred are asked to observe the following precautions:
-avoid washing and playing in rivers and areas subject to flooding.
-if you think your home is threatened by flooding, be ready to evacuate if conditions worsen.
The National Works Agency has advised that the Haughton Bridge in St. Mary has been closed. The bridge, the NWA said has been made impassable by heavy rains in the area since Wednesday, which has left it covered with water.
The alternative route from Kingston to Portland towards Port Antonio is Georgia, on to Clonmel, through Highgate and then on to Port Maria. The opposite obtains for motorists travelling from Port Maria towards Kingston.
Blocked roads in St. Mary
-Junction Road
-Highgate Road- blocked in the vicinity of Rosend.
-Section of road by Agualita Vale to Whitehall.
Affected areas in Portland
-Fruitful Vale,
-Orange Bay,
-Rio Grande river-rising,
-Forty Miles in Buff Bay,
-Hope Bay,
-Shrewsbury
-and sections of Hart Hill
St. Ann
Flooding in Great Pond.
FROM THE OBSERVER FRI NOV 24
Rains cause flooding
Portland, St Mary, St Ann take brunt of bad weather
By Carl Gilchrist and Kerry McCatty Observer staff reporters
Friday, November 24, 2006

A frontal system that has been affecting the island since Wednesday dumped heavy rains on sections of the country yesterday, flooding towns and districts in Portland, St Mary and St Ann.
Last night, the Meteorological Service maintained a flash flood warning for low-lying and flood-prone areas until 5:00 am today, but said that the system was expected to drift west today into tomorrow.
The Met Service also warned that further flooding was likely as showers were likely to spread to other parishes.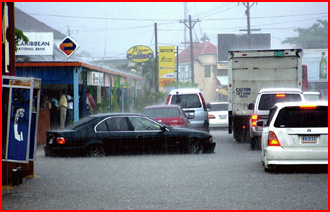 Traffic crawling through Ocho Rios' flooded streets yesterday.
The Office of Disaster Preparedness and Emergency Management (ODPEM) reported flooding in Annotto Bay, Agualita Vale and on the Georgia to Highgate road in the vicinity of Rosend, in St Mary; Shrewsbury, Fruitfulvale, and Hope Bay in Portland where the Swift River had overflowed its banks.
The ODPEM also said that 10 persons were trapped at Paradise Estate and that the Jamaica Fire Brigade was responding to appeals for help.
Yesterday in Ocho Rios, several persons told the Observer it was the worst flooding they had seen in recent memory in that St Ann tourist resort town.
Businesses on Main Street were forced to close early and the normally busy street was, for a time, turned into a dual carriageway as motor vehicles were forced to abandon DaCosta Drive, the only road leading westward out of the town (towards St Ann's Bay) as it was rendered impassable by debris washed down from Milford Road, which stretches towards Fern Gully.
Workers sent home early waded through knee-high water, at some points, to reach taxi stands.
Some men were seen carrying women on their backs across flooded streets. Public passenger vehicles, for the most part, suspended service, and some cars, while driving through the flooded streets, had water seeping into them.
Several vehicles stalled in the water, forcing passengers onto the flooded roadways.
A number of tourists, who disembarked from two cruise ships docked in the town, braved the flood waters and the rain and tried to do some shopping before heading back to the vessels.
St Ann Parish Council chairman, Mayor Delroy Giscombe, after viewing sections of Ocho Rios, told the Observer that the North Coast Highway contractors and the National Works Agency (NWA) need to revisit some areas of the highway that have been completed in order to find a solution to the flooding problem.
"We will have to identify the concerns, see where we have faults and then instruct the NWA, which controls all the roads in Ocho Rios, and the highway contractors to revisit some areas to ensure that the situation is remedied," Giscombe said.
Seow's Supercentre, usually one of the first stores on Main Street to experience flooding whenever it rains heavily, was again flooded.
Up to 3:45 pm when the Observer spoke with manager Albert Seow, the store was still under water. Seow said he was frustrated with the recurring problem and suggested that proper drains needed to be installed.
"The drains are not adequate, and in addition there is no maintenance programme for them," Seow complained.
The Mother's restaurant located downstairs the Observer's Ocho Rios office at 17 Main Street, and several other businesses along the road were flooded.
At Condo Rios Resort at Old Fort Bay in Mammee Bay, Manager Pauline O'Reilly said eight of the 10 apartments on the property were flooded, inconveniencing 45 tourists holidaying there.
O'Reilly told the Observer that it was the worst incident of flooding on the property and blamed the flooding on the work on the North Coast Highway.
"All the water from off the new roadway is just rushing into the resort," O'Reilly said. "They (the authorities) need to do something about it."
Several other resorts at Old Fort Bay, including Silver Palms and Cannon Villa, were also reported to have been flooded.
Mayor Giscombe later told the Observer that all councillors were out in their divisions, trying to render assistance where needed.
There were also reports of flooding in sections of Runaway Bay and Exchange.
Meanwhile, Jamaica Labour Party caretaker for West Portland Daryl Vaz said that the situation there was bad, with sustained flooding in sections of Buff Bay and Orange Bay.
"The biggest problems are above Hope Bay in Swift Vale, Comodore, [and] Shrewsbury," Vaz said, adding that these were the areas that had been affected by heavy rains in 2001.
He said many of those persons were still living in shelters and called for some of the money being spent on the Portland leg of the North Coast Highway to be diverted to cleaning drains and fixing infrastructure to decrease the possibility of flooding in the interior.
In St Mary, the NWA closed the Haughton River bridge, saying that it was covered by a "large body of water" and was therefore impassable.