I just found the following update from the Weather Underground site - the Jeff Master's blog -------- I have a hunch we are in for an interesting week of weather watching in the Western Caribbean.
NHC declares a new "invest" on tropical wave in Lesser Antilles

The tropical wave surrounded by a cloud of African dust and dry air that I've been commenting on ever since it left the coast of Africa, is now an official threat. NHC has designated this wave "Invest 99L" this morning. The wave is near 15N 61W, right on top of the Lesser Antilles Islands. It is surrounded by a large cloud of dry air and African dust, but has slowly been able to pump more moisture into its center each night over the past few days as thunderstorm development kicks up then dies away. The thunderstorm activity has picked up considerably this morning, the first time the disturbance has been able to build thunderstorms during the daytime hours. The disturbance is tracking west at 15 mph into a large upper trough of low pressure over Cuba and Hispaniola that is creating about 10-20 knots of shear over 99L. The trough is expected to weaken and move west over the next few days, potentially creating a low shear environment over most of the Caribbean. This could allow intensification of 99L into a tropical depression by Monday.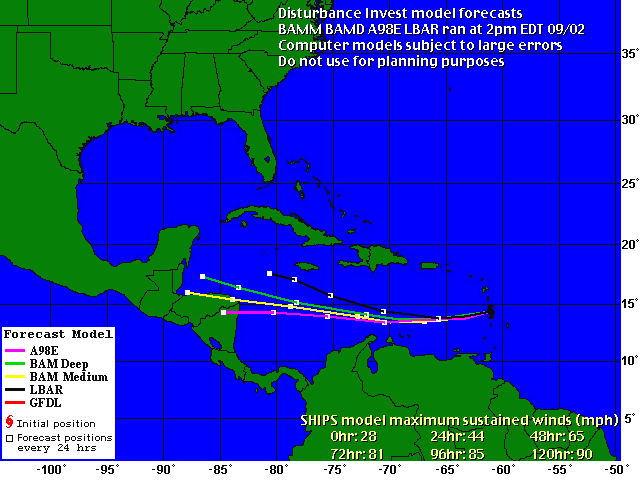 Figure 2.
Preliminary model tracks for Invest 99L. These models are described at the
NHC web site
.