- Unsnowing Sun and Sand
From: DearMissMermaid at aol.com
Date: Tue, 4 Mar 2014 19:15:16 -0500 (EST)
Still no snow in the Virgin Islands, will miracles never cease!
Now here's a serious one legged hammock to relax in. A mermaid was in the hammock, but she got up to take the picture.
Warm and Relaxing Regards,
From The Mermaids in the Virgin Islands
---
- Snowing Sunshine
From: DearMissMermaid at aol.com
Date: Thu, 27 Feb 2014 21:59:04 -0500 (EST)
Another glorious day in paradise!
Crystal clear blue waters of the Caribbean.
Warm and Wet Regards,
From The Mermaids in the Virgin Islands
---
- Flyover
From: DearMissMermaid at aol.com
Date: Mon, 24 Feb 2014 11:06:05 -0500 (EST)
Flying over sailboats, mermaids in the sky!
Great Harbor, home of Foxys on Jost Van Dyke
Fantastic weather, no snow, scattered short showers, sunshine all day long.
---
- Nuts for Coconuts
From: DearMissMermaid at aol.com
Date: Sat, 22 Feb 2014 16:15:28 -0500 (EST)
Highs in the 70's with scattered short showers. A good day for limin' under dah coconut tree...
Coconuts, treasured for their health giving properties.
The scientific name for coconut is Cocos nucifera. Early Spanish explorers called it coco, which means "monkey face" because the three indentations (eyes) on the hairy nut resembles the head and face of a monkey. Nucifera means "nut-bearing."
The coconut provides a nutritious source of meat, juice, milk, and oil that has fed and nourished populations around the world for generations. On many islands coconut is a staple in the diet and provides the majority of the food eaten. Nearly one third of the world's population depends on coconut to some degree for their food and their economy. Among these cultures the coconut has a long and respected history.

Warm and Nutty Regards,
From The Mermaids in the Virgin Islands
---
- Rainbows in Paradise
From: DearMissMermaid at aol.com
Date: Thu, 20 Feb 2014 20:48:58 -0500 (EST)
To savor the rainbows, you have to put up with the rains.
Life is goof.
Weather is warm with scattered showers and occasional rainbows.
Racing out of Sopers Hole in West End, Tortola, Virgin Islands.
Warm and Colorful Regards,
From The Mermaids in the Virgin Islands
---
- Sunny Earthquakes and more...
From: DearMissMermaid at aol.com
Date: Wed, 19 Feb 2014 13:42:48 -0500 (EST)
Sunny and clear (but shaky in some places...)
One of our sailing mermaids reports:
On Tuesday 18th February, 2014 at 5:27am local time an earthquake occurred east of Martinique. The event was located at 14.71°N and 59.18°W. The magnitude was 6.4 and depth 16km. This event was reported felt in Dominica, St. Vincent, Saint. Lucia, Grenada, Barbados and Trinidad.
We didn't feel it being on the boat (in Grenada) but Shademan our bus driver said he felt it. Trying to track down the Tsunami Warning system here in Grenada.
Dear Miss Mermaid has tracked down the warning system. When you hear the screams, grab your life jacket and run for the hills!
Another mermaid submits this wonderful photo of a
Cruise ship traversing the Sir Francis Drake channel in the Virgin Islands with Brandywine in the foreground on Tortola.
Recent reports in the BVI of dinghy and engine theft are not good at all. Chain and lock up your boats and equipment so the thieves have to really work for a living.
Another report has come in that most folks are over their 'shroom high from the Fool Moon party last Friday.
Weather is good, wish you were here!
Also you may want to read this odd article about the shipwrecked angel in St John "
From Another World
"
Warm and Fabulous Regards,
From The Mermaids in the BVI
---
- Monkey Point
From: DearMissMermaid at aol.com
Date: Tue, 18 Feb 2014 11:00:11 -0500 (EST)
It's snowing sunshine all day long with pleasant temperatures. It feels just like paradise!
A lovely view of Monkey Point and Guana Island in the back ground. Monkey Point has some fabulous snorkeling with some pretty big tarpon hanging around and although harmless their size is a tad intimidating.
A certain nameless mermaid relates this story about cavorting around with a their special person, while they were young and courting each other. One thing lead to another and on a beautiful day they ended up by boat at Monkey Point.
They decide to go snorkeling in their birthday suits since the weather was nice and not another soul was around.
Ahem... it should be noted that sailboats can actually sneak up on you because they are powered by the wind. Some captains take pride on being able to sail up to their anchorage without use of a motor or even sail up to a mooring buoy without using their engine.
So these enthusiastic snorkelers were a bit surprised when they resurfaced, to find out that not one, not two, but three catamarans had sailed into their once deserted anchorage.
As the mermaid says "There was nothing to do but flash a big smile... and then some..." while climbing back aboard their boat.
Warm and Naked Regards,
From The Mermaids in the BVI
---
- A new twist on camouflage
From: DearMissMermaid at aol.com
Date: Sun, 16 Feb 2014 18:04:37 -0500 (EST)
Another great day for limin' in paradise...
Camouflaged island truck creeps around steathily...
Warm and Sunny Regards,
From The Mermaids in the BVI
---
- Green Islands
From: DearMissMermaid at aol.com
Date: Fri, 14 Feb 2014 13:02:41 -0500 (EST)
No snow, just scattered clouds and perfect sailing weather. Thanks to rains, the islands are green.
Bitter End Yacht Club, Virgin Gorda
Warm and Lazy Regards,
From The Mermaids in the BVI
For a fun time, read:
---
- Purr-fect Sailing Weather
From: DearMissMermaid at aol.com
Date: Tue, 11 Feb 2014 20:58:18 -0500 (EST)
Sailing in the Sir Francis Drake channel. 14 knots of wind, about 80 degrees sunny & balmy!
Warm and Lazy Regards,
From The Mermaids in the BVI
---
- BVI at the Winter Olympics!
From: DearMissMermaid at aol.com
Date: Fri, 7 Feb 2014 20:18:07 -0500 (EST)
Fun fair weather with some of the locals saying it be so cool mon.
Looked how dressed up and pretty the old Bomba Charger is! WOW!
Speaking of taking ferries to go off island... one islander has made it to the Winter Olympics!
A young fellow named Adam Crook will be representing the BVI in the Sochi Winter Olympics in the half pipe ski event. Adam was born in Tortola and subsequently moved to the U.S. to train. This is the first time in 30 years that the BVI has been represented in the Olympics when we sent a young speed skater back then. Just goes to show you can do anything you put your mind to no matter if it's against all odds!
Adam will be the proud flag bearer for the BVI at the Sochi 2014 Winter Olympic Games opening ceremony on February 7 at the Fisht Olympic Stadium in the Olympic Park.
Adam you rock our world!
Rah Rah Rah GO BVI!
From The Mermaids in the BVI
---
- Perfect shades of blue...
From: DearMissMermaid at aol.com
Date: Wed, 5 Feb 2014 19:39:50 -0500 (EST)
Weather is perfect with the right shades of blues with highs in the mid 80's and lows in the mid 70's, with just the right mix of trade winds to keep one pleasantly comfortable.
A perfect place for a mermaid...
This is a fabulous little restaurant on Virgin Gorda called Coco de Maya. Grab a drink, settle into one of these comfy lounges and listen to the waves lapping at the shore. Then head inside for a wonderful lunch or dinner, then back out for another drink and more relaxation and zzzzzzz.

~~~~~~~~~~~~~~~~~~~~~~~~~~~~
Warm and Lazy Regards,
From The Mermaids in the BVI
---
- Wet Sunrise
From: DearMissMermaid at aol.com
Date: Mon, 3 Feb 2014 09:16:23 -0500 (EST)
An awesome mermaid sister in West End writes:
Grey rainy sunrise over the Thatch Island cut this morning.
Another awesome mermaid sister reporting from Beef Island writes:
This is not a very clear picture, but this exquisite creature is a Paper Nautilus, a very rare sight among these parts of the islands. This was seen at Trellis Bay. Upon conferring with a marine biologist it was decided that perhaps this guy was injured or ill as they are usually seen out in deeper waters. They are very fragile being made up of membrane, and are not related to the nautilus shell but more closely related to the octopus. I love making little discoveries like this here on Tortola, and I never leave home now without my camera, because you just never know what you might find.
Come on down the weather is warm, the water is wet, the winds are for sailing.
Warm and Wet Regards,
Dear Miss Mermaid
---
- Snowing Sunshine
From: DearMissMermaid at aol.com
Date: Sun, 2 Feb 2014 12:48:27 -0500 (EST)
Well overcast rainy periods interspersed with periods of sunshine are keeping things cooler here!
But not cool enough to need this cool machine:
Yes sir, this will scrape the snow off the roads for you, save you tons of shoveling.
Warm and Goofy Regards,
Dear Miss Mermaid
---
- Starfish
From: DearMissMermaid at aol.com
Date: Sat, 1 Feb 2014 20:24:33 -0500 (EST)
Only in the BVI...
Another mermaid spotted this beautiful starfish hanging out at Trells Bay on Beef Island. She also remarked they are few and far between as opposed to years ago when they were much more plentiful.
Remember to take only pictures, leave only footprints. Living starfish are not souvenirs.
Weather is balmy, sunny and beautiful in the BVI today.
But here's a funny sight from the USA:
St John
is on the US side of the Virgin Islands. It was my home port for many years and where I first reported on hurricanes.
Warm and Sunny Sailing Regards,
Dear Miss Mermaid
---
- Picture Perfect
From: DearMissMermaid at aol.com
Date: Fri, 31 Jan 2014 10:49:59 -0500 (EST)
Perfect weather in the low 80's with breezy winds around 19, perfect for a day on the water.
~~~~~~~~~~~~(\_~~~~~~~~~~~~~~~
Sopers Hole is looking positively awesome in January 2014. This area is also known as West End. The southern strip of land in the background is Tortola, but the foreground is Frenchmans Cay.
This port has ironically been a recurring theme throughout my life from 1980 forward.
I ran around on boats afloat for about 20 years in this area, always stopping in at Sopers Hole at some point in the charters I crewed aboard. Many times this was our port of entry, where we could clear customs and immigration. Other times, when I was off work for a while, I would sail on my own 30 foot Sea Rose Catalina sailboat, visiting friends who lived in and around Sopers Hole, then sailing out again for the next beautiful anchorage.
In those years my passport was rapidly filling up so fast from sailing around for work or pleasure, that they inserted an extra 50 pages to make room to keep stamping in more clearances.
Besides sailing in and out of this port hundreds of times over the course of nearly 30 years, I moved ashore at this harbor for 9 years, first residing 7 years on Frenchmans Cay with a clear view of the harbor from my balcony eventually relocating for 2 years on the Tortola side with a house on the hill overlooking the harbor and Frenchmans Cay.
I guess you could say I've lived, worked, played, in, beside and above this harbor for several decades.
Warm and Sunny Sailing Regards,
Dear Miss Mermaid
---
- Sun and Love
From: DearMissMermaid at aol.com
Date: Wed, 29 Jan 2014 16:01:12 -0500 (EST)
A fantastic day in paradise! Weather is summery with sailing winds for the boaters too. What a great day all around. Patchy clouds with the occasional spit from above, but nothing lasting.
Hungry?
Check out Dove Love on Tortola. YUMMY!
Give Lynne a BIG hug and tell her Dear Miss Mermaid sent you!
---
- Above freezing today, thank goodness!
From: DearMissMermaid at aol.com
Date: Tue, 28 Jan 2014 08:28:06 -0500 (EST)
Another rough day in paradise. Just makes me want to go out to sea and sail all day.
Weather is forecast to be warm and sunny with the occasional sprinkle from a quick passing shower if we're lucky!
Today's wisdom...
Drinking Rum before 10am makes you a pirate not a drunk...
I'll drink to that!
Warm and Sunny Hiccups,
Dear Miss Mermaid
---
- Raining Cows
From: DearMissMermaid at aol.com
Date: Sat, 25 Jan 2014 22:26:55 -0500 (EST)
Weather is simply marvelous. No snow, no hurricanes, but it might be raining cows!
Yep, that's a cow on the roof of an apartment building. Only in the islands do these crazy t'ings be happening...
What's even funnier, the apartment dweller came home, hearing cow noises, but he just thought they were roaming around. He had no idea the cow was on his roof until the neighbor alerted him.
So how do you get a cow off your roof?
You call the moo-vers!
Matter of fact, the cow was treated to camping all night on the roof too. Finally Department of Agriculture showed up and assisted in re-moo-ving the cow.
Hey diddle diddle,
The cat played the fiddle,
The cow jumped over the moon.
The little dog laughed to see such sport,
And the dish ran away with the spoon.
Warm and Goofy Regards,
Dear Miss Mermaid
---
- Another Sunny Day with Some Scattered Showers
From: DearMissMermaid at aol.com
Date: Fri, 24 Jan 2014 20:35:55 -0500 (EST)
Sunrise at 6:54am and Sunset at 6:09pm. Temps will plunge to about 72F tonight but will rebound to the near 80's tomorrow. Dark night and sunshine all day.
Dat be how we roll!
Some of these kids were only 11 years old!
Warm and Sunny Regards,
Dear Miss Mermaid
Author of
---
- Sunny (and no snow!)
From: DearMissMermaid at aol.com
Date: Tue, 21 Jan 2014 09:44:24 -0500 (EST)
Gorgeous weather with scattered clouds, the occasional short rain shower, temps in the 80's, balmy winds around 15 mph.
No snow expected, so it's a great day to go sailing or beaching.
Warm and Sunny Regards,
Dear Miss Mermaid
---
- No Arctic Temps Here
From: DearMissMermaid at aol.com
Date: Sat, 11 Jan 2014 21:09:33 -0500 (EST)
The BVI has no snow, and no arctic temperatures, come on down and enjoy the sunshine and beaches.
While it might be OK to sail naked offshore, the BVI does not have any sanctioned nude beaches.
When I bought my hurricane ravaged sailboat in 1991, she was named "Cape Codder". They say it's bad luck to rename a ship, but I renamed her "Sea Rose" to give her good luck.
I guess it worked, because over the next few years I rebuilt her to like-new condition in between working on larger yachts as professional crew.
Dear Miss Mermaid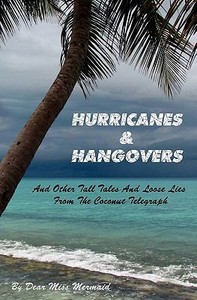 ---
- Ho ho ho!
From: DearMissMermaid at aol.com
Date: Wed, 25 Dec 2013 17:46:38 -0500 (EST)
Merry Christmas and may the season bring us great joy (and Christmas Winds!)
Ho ho ho!
---
- Hurricane season over 3 weeks ago!
From: DearMissMermaid at aol.com
Date: Fri, 20 Dec 2013 08:55:43 -0500 (EST)
So much to celebrate, hurricane season is over, Christmas is around the corner and all is warm and well!
---
- Sun is out.... Finally
From: Da Wayward Sailor <dawaywardsailor at aol.com>
Date: Tue, 5 Nov 2013 10:08:52 -0500 (EST)
Today started with a very colorful sunrise of Red and Oranges with various levels of clouds but now it is partly cloudy with wide areas of full sun. This is welcomed by many since the past 5 days have been rather wet.
Winds are forecast to be out of the Southeast between 6 and 12 knots from now thru Friday with seas running 2 to 4 feet today increasing to 4 to 6 feet by the weekend.
Weather underground reports:
Showers and thunderstorms associated with a low pressure system over the central Caribbean will have a low, 10% chance to develop into a tropical cyclone by Tuesday. This system will produce heavy rain, which may lead to flooding over parts of Hispaniola, Puerto Rico and the Virgin Islands. This are of low pressure is expected to drift west southwestward on Tuesday.
IR water vapor loops from NWS still show the circulation in the central Caribbean with several areas of heavy potential showers. It also shows a front moving down from the US and a wind direction from the East that will cause the bad weather to slide out of the area over the next few days. Still tonight we have a 70% chance of rain and thunderstorms. It is 84 but feels like 92 due to the high water content of the air and light winds.
The plants have loved the rain and all looks very green at this time but I am glad we have a chance for some beach time here before I head down to Grenada in a week or so.
Later, Wayward
---
- Mostly rain but a few sun showers
From: Da Wayward Sailor <dawaywardsailor at aol.com>
Date: Sat, 2 Nov 2013 11:26:18 -0400 (EDT)
Small craft should exercise caution
Today winds 14 to 17 knots from the Southeast with seas running 4 to 6 feet. We see only a few white caps in the Sir Francis Drake channel but the few boat out are really having a hobby horse ride going East and not much better going West. See a few out with full sails up and having a great and probably a very wet time.
Winds and seas should remain about the same thru the weekend and then lessen a bit through the early week down to about 7 to 12 knot winds and 3 to 5 foot seas on Wednesday.
Very overcast here today with lots of showers so far and more expected. I can normally see Virgin Gorda in the east and down to St, John's USVI to the West. At this time I have a hard time seeing beyond Beef Island to the East and The Indians to the West but even these are both screened out in a passing squall. Looks to be a good day for a cup of coffee and a good book or maybe another nap!!
Red Rock Restaurant and Bar opened for the season on 1 November and it was a packed house. The night before numerous ghost, ghouls, vampires and black cats were reported to be around the area!!!! Seems like everyone had a great time both nights, both the living and semi dead. Hope everyone had a happy Halloween.
Later, Wayward
---
- Earthquake just off Tortola in the Sir Francis Drake Channel
From: Da Wayward Sailor <dawaywardsailor at aol.com>
Date: Wed, 30 Oct 2013 16:24:01 -0400 (EDT)

Tuesday October 29th 2013 – According to information issued by the United States Geological Survey (USGS) , an earthquake magnitude 2.6 Md occurred in the vicinity of the Virgin Islands. At 6:47 PM an earthquake measuring 2.6 Md Latitude: 18.393 N Longitude:-64.579 W occurred at a depth of 4 km at a distance of 2 mile ESE of Road Town, Tortola, BVI..
This was between Road Town and East in and out into the Sir Francis Drake Channel about half way to Salt Island. We felt the shock at our present location just above Maya Cove and it was a sharp thump but we know of no damage being reported by anyone. The people on boats near the location did not notice the event.
Have had a number of good rain showers over the past couple of days and anticipate more in the remainder of the week. Offshore seas are expected to increase to 4 to 6 feet with 17 to 20 knot winds from the East Northeast. " Numerous showers through the day. Isolated thunderstorms in the afternoon. " is the word of the day week, still lots of breakouts of sun allowing ample time to get in some beach time.
This afternoon it is a warm 87 and the winds at the airport are 12 MPH from the East. Looks like we may have a damp Halloween but we are getting with some friends for a dress up/ down and some spooky drinks and snacks. Be careful out on these "cool" October nights....LOL
Have been off island for a bit, as my crew and I did a sail down the Leeward and Windward Islands. Boat is still in Granada and am in the BVI for a few weeks only then will return to the boat and sail back up to the BVI next year. Had a great sail down and made some great friends along the way... we did a slow sail and will do the same on the way back, hanging out at each island for a good while before moving on to the next.
---
- Update
From: Jeff McNutt <jeff at divebvi.com>
Date: Thu, 5 Sep 2013 22:14:42 -0400
On and off sprinkles all day on Virgin Gorda with light winds in the Valley.  Flashes of lightning have picked up now at 10 pm with brief heavy rains, thunder, and gusty winds.  




Stay safe and keep a weather eye out,

Jeff



--


Jeff McNutt
General Manager, Dive BVI
SSI Instructor Trainer #21761 



"Dive BVI...setting the standard in BVI diving since 1975."

DIVE BVI CANCELLATION POLICY:  for all certified and student divers there is a 24 hour cancellation notice required.  Divers or students providing less than 24 hours notice are subject to a cancellation fee for the value of the space(s) reserved.





---
- Dog days of summer!
From: mermaid gardener <mermaidgardener at gmail.com>
Date: Sun, 25 Aug 2013 11:32:09 -0500
Good afternoon!
It may be the dog days of summer up north but here we are still looking at a couple more months of watching for hurricanes and being prepared.  All is quiet out on the hurricane front for the moment. 
We have had some spotty showers and looks like they are predicting 50% chance of showers somewhere on Tortola.  Temperature will near 90 today, with later this evening the chance of showers decreasing to 40%. Might be a good day to go to the movies or brew some ice tea to help cool off! 
Cheers!
the Mermaid Gardener
---
- Sunday at the Beach
From: mermaid gardener <mermaidgardener at gmail.com>
Date: Sun, 18 Aug 2013 14:01:15 -0500
Good afternoon,
Today temp is currently at 86 degrees with a light wind out of the south east at 11mph.  Sunny with scattered clouds with a 50 % chance of rain.  Looks like plenty of folks over at the Soggy Dollar enjoying a lazy hot summer afternoon.
We still Tropical depression Erin that is out there as well as two invests. Both are something to watch.
Have a great Sunday afternoon!
Cheers!
the Mermaid Gardener
---
- Erin in the Distance
From: mermaid gardener <mermaidgardener at gmail.com>
Date: Fri, 16 Aug 2013 08:18:34 -0300
Good Morning,


Appears that we are now starting to be in a more active period with the waves coming off Africa. 
This is the current possible tracks for Erin.  Let's hope it dissipates.
We currently have scattered clouds with spotty showers over by Peter island.  They are predicting a 70% chance of rain so it could be a wet day somewhere on the island.  The east end of the island generally is drier than the central and western part of the island so any amount of rain is a good thing!  I do hope that I will see a rain shower, it would be nice to fill up my cistern a bit with water and my gardens will appreciate the drink..
Temperature is currently 81 degrees and we are looking at a high of 90 degrees winds are out of the southeast at around 12 mph.
Yesterday I wrote about being prepared for a hurricane.  I have stocked up on water and will now start to purchase additional goodies that I don't have to cook.  When the time comes to shutter up and possibly be without power it's nice to have supplies in hand by that time the stores are jammed with people and items become sold out quickly.
Speaking of scattered clouds we have a long large dark black cloud over the Sir Frances Drake channel moving my way so time for me to close and take in the couple of sarongs that are out on the line in case it should rain.
Cheers!
the Mermaid Gardener
---
- humm TSErin
From: mermaid gardener <mermaidgardener at gmail.com>
Date: Thu, 15 Aug 2013 16:48:50 -0300
Good afternoon


Looks like we have another tropical storm looming out there to the east of us.  However, this TS from all sources looks as if it will dissipate before reaching the Lesser Antilles. Still we need to be diligent and continue to prepare for a Tropical storm or Hurricane.  This mermaid will keep an eye on Erin!  Thinking I might need to check my hurricane supplies.
Yesterday I was able to check out Trellis Bay.  It's very quiet there.  Sad news from the coconut telegraph...the Loose Mongoose may be closed for good.  The folks that were renting the location were not able to get things up and running, so from my sources it's still up for sale and will not reopen any time soon.  Asad loss indeed!  Cyber Cafe is open for business and so is Aragorn's Studio, though reduced hours.  Aragorn had wonderful passion fruit that I picked up and will have for breakfast, they did have some papaya and guava berries!  Not sure what to do with Guava berries other than juicing and using in infused rum.
The sign at the Loose Mongoose...............

Local weather:  Currently the temp is 88 degrees possibly going up to 91 degrees.  40% chance of rain, so that is going to be scattered not a real good down pour. 
Winds and Waves:winds are 15-19 knots gusting to 22 knots out of the northeast.  Tomorrow starting with 17 going down to 14 knots with gusting winds at 19 knots.
 Waves are 4-5 feet with wave period is 7 seconds.
A snapshot of Cooper Island, just a few boats out there.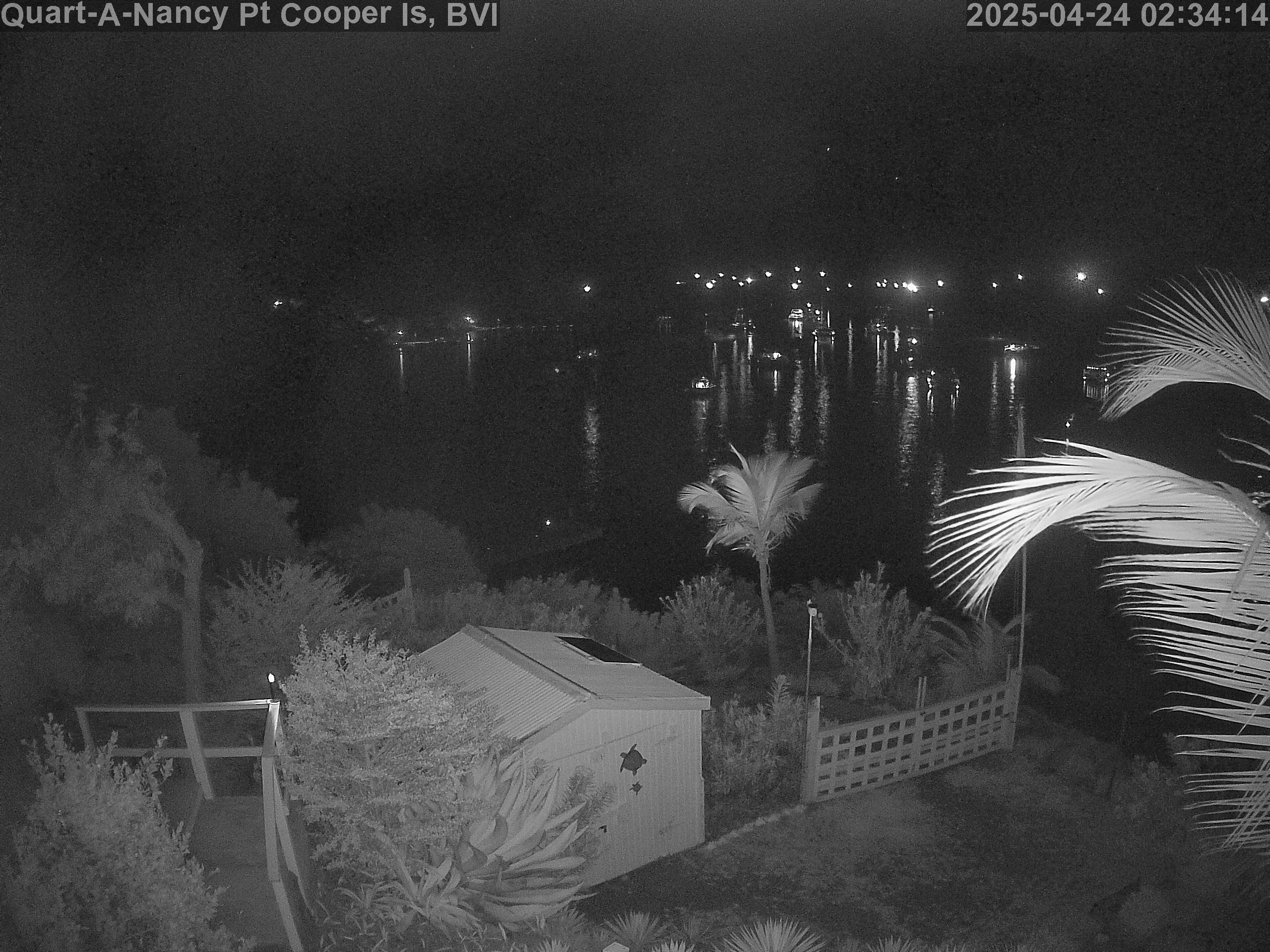 Cheers!

the Mermaid Gardener! 
---
- Lazy Hazy afternoon
From: mermaid gardener <mermaidgardener at gmail.com>
Date: Wed, 14 Aug 2013 17:56:59 -0300
Good Afternoon,


A lazy hazy hot summer afternoon here in the BVI. Winds were up earlier today as they had predicted.   I see a smattering of small white caps out in the channel and Cooper Island appears to be still busy. A fair amount of sailboats have picked up a ball.
Newsy items........

1.  Da Best Cup coffee shop has moved over by Village Cay, they have tables and chairs out front under an awning.Looks nice and will have to check it out!
2. Riteway...news to me well I've been off island so it's old news for all others.  No more plastic bags...it's a good thing since they were notorious for double bagging and triple bagging, Now that they have went green bring your own bags or they will supply you with a cardboard box or you can still purchase plastic bags for 15 cents per bag.  I'm sure everyone on the island has just about ran out of all their stored plastic bags they use for trash.  Glad I've been gone my stash of bags are still safe.  There is nothing like the feeling of driving in your car with a small bag of garbage and flinging it into the green dumpsters enroute to Roadtown!  LOL 
Carnival flags are still up so that the island is looking festive!  My garden is looking festive too with some new additions that my gardener has put in.  They are island gardenia's.  I've included a picture for you, they are quite precious and the leaves are waxy shiny.  I can only hope that this local variety will do better than the one I had before that was grafted onto rootstock.
Got to run and check out the Loose Mongoose for friends. 
Cheers!
the Mermaid Gardener
---
- Da Island is Green mon!
From: mermaid gardener <mermaidgardener at gmail.com>
Date: Tue, 13 Aug 2013 22:25:38 -0300
Hi Everyone,


Just returned from a 6 month walk about, or truthfully a sail about, I must confess that I've been sailing for 6 months down island and loving pretty much every moment with the exception of the long passages they are my least favorite. 
Started way back in February from the USVI.  First stop was St. Martin then on down the chain into the wind ward islands all the way to Grenada.   Have to say that it has been a fantastic experience and I enjoy being a cruiser. I have many a sailing story to tell!! Plus I have met so many new cruiser friends.
 I missed Tortola over the months, coming in today saw that the island is green especially for this time of year and that the hillsides are not brown like normally.  Talked with several locals and they have said that here in Tortola we have had some rain but it's been quite hot!
Here is the local forecast which includes winds and waves.


The remainder of Tuesday we will have 12-15  knot winds

Wednesday 16 knot winds in the morning then drifting down to 14 later on in the afternoon, with wind gusts overnight at 18 knots and then going down to 16 knots.


Waves:  Wave height is running a straight 4 feet with a wave period at 7 to 6 seconds.


Not much cloud cover is going to be happening and there is very little prolonged precipitation maybe a shower here and there that is in the  forecast.

Temp is currently 82 degrees with this evening showing a chance of thunderstorms at 50%.


To all readers thanks for your emails wondering where on the planet I might be.  Many a cruiser reads StormCarib!  Thanks again! 


Cheers!

the Mermaid Gardener catch ya later

.
---
- Bright & Sunny in The British Virgin Islands
From: "L Denise Hewlett" <ldhewlett at gmail.com>
Date: Tue, 23 Jul 2013 14:33:01 +0000
Perfect sailing conditions today.  It is Bright & Sunny in the British Virgin 
Islands.  The children are on their Summer Vacation as most enjoy the programs 
hosted by the Department of Youth Affairs and Sports. Tennis. Craft.  
Basketball. Softball. Volleyball. To name a few. Festival activities from this 
weekend. By all indications this weather should hold.  
Sent from my BlackBerry®
---
- Cloudy & Raining in the British Virgin Islands
From: "L Denise Hewlett" <ldhewlett at gmail.com>
Date: Mon, 22 Jul 2013 19:41:26 -0400
It's been a cloudy and rainy day in the BVI today. This is expected to continue throughout the night. Road Town was still active as ever as preparations continue for our annual Festival celebration. About 0.5 inches of rainfall, slight flooding in low lying areas.
---